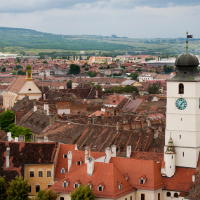 Mădălina Bortes, M.A. is currently at Pacifica in the Ph.D. in Depth Psychology program with a specialization in Somatic Studies. Her work covers "the psychosomatic experience of communism in România." She has been nominated as a semi-finalist in the Fulbright program, and I'm delighted to be speaking with her.
Angela: Thank you for talking with me. How does your personal life story and background intersect with communism in România, and what inspired you to take that as your research topic?
Mădălina: It is a true pleasure. Thank you for asking me to do this. I was born in Sibiu, România, a very culturally vibrant city in the Transylvania area. It is one of those cobblestone streets, pastel-colored houses, and human-sized windows kind of a city. I was born just after the revolution, so I did not experience life in România during communism, and I did not hear about communism while growing up, there or in the U.S., which is where we moved after I'd finished the second grade. Communism was not an avoided topic, as it can be for some people; it was simply never mentioned. The absence of meaning-making, or the absence of "lustration," as some post-communist scholars note, fascinated me. Whenever I spoke with anyone who'd experienced life in România during communism, such as my family members and their friends, I was awestruck by the great degree of flippancy they expressed about their lived experience. Everyone mentioned electricity limits, perpetually long lines, canned food for breakfast, and a lifestyle that resembled the days after a particularly severe natural disaster. However, no one seemed very affected by what they'd lived through, for ten, twenty, even thirty years; and more than this, everyone offered the same response to my naive question of how it was that they'd genuinely believed such a lifestyle was normal, was the only way of living. Everyone I'd asked said, "It was all we knew," and this greatly intrigued me.
Read More