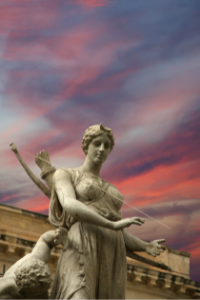 Gelareh Khoie is pursuing her Ph.D. at Pacifica in Jungian and Archetypal Studies with an Emphasis in Depth Psychology. A writer, artist, DJ, and teacher, her studies have ranged from the mythology of disco to the archetype of Artemis. I'm delighted to learn more about her.
Angela: You write beautifully, are a natural story teller, and you have an article up at "Personality Type In Depth". I read "Artemis as Spirit of the Wild" with interest.
Here is a quote that stood out:
"As the light and dark sides of the functions made their appearances in my life, Artemisian threads helped me cope with traumatic circumstances by continually providing a stream of life-affirming power. Indeed, the Artemis sensibility traveled in lockstep with my growing function maturity. Ultimately, as is her wont, Artemis helped me give birth to new consciousness by revealing the fecundity inherent in my wounds. For Artemis is the cool-headed and unsentimental realist who demands that we look at our true selves with unvarnished eyes and insists that we accept the darkness and the danger of the deep wilderness, the very darkness that gives life its richness."
Is Artemis part of your dissertation research and how has your study of her continued to influence your understanding of the human psyche?
Read More