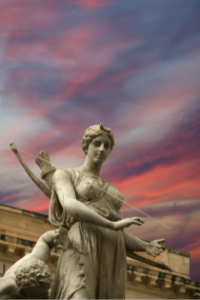 Gelareh Khoie is pursuing her Ph.D. at Pacifica in Jungian and Archetypal Studies with an Emphasis in Depth Psychology. A writer, artist, DJ, and teacher, her studies have ranged from the mythology of disco to the archetype of Artemis. I'm delighted to learn more about her.
Angela: You write beautifully, are a natural story teller, and you have an article up at "Personality Type In Depth". I read "Artemis as Spirit of the Wild" with interest.
Here is a quote that stood out:
"As the light and dark sides of the functions made their appearances in my life, Artemisian threads helped me cope with traumatic circumstances by continually providing a stream of life-affirming power. Indeed, the Artemis sensibility traveled in lockstep with my growing function maturity. Ultimately, as is her wont, Artemis helped me give birth to new consciousness by revealing the fecundity inherent in my wounds. For Artemis is the cool-headed and unsentimental realist who demands that we look at our true selves with unvarnished eyes and insists that we accept the darkness and the danger of the deep wilderness, the very darkness that gives life its richness."
Is Artemis part of your dissertation research and how has your study of her continued to influence your understanding of the human psyche?
Gelareh: I'm exploring further dimensions of Artemis's story for my dissertation, particularly the fact that it was she who led the dances on Mount Olympus. After a long day spent tending to the health and vitality of the wilderness, she would get all gussied up and lead the dances while her twin brother, Apollo, played the lyre. That Artemis and Apollo are twins is significant, suggesting that solar and lunar consciousnesses are tightly conjoined kin and cannot be dissected. My dissertation is focused on the spiritual applications of music and dancing in modern culture so Artemis and Apollo will definitely help to further the discussion. One specific aspect of Artemis that continues to teach me about the psyche is her seriousness. To me, the study of the psyche is no laughing matter. While times of joviality and transcendence may certainly arrive and be enjoyed, most of the work takes place in the underworld—at least, it does for me. It is therefore her centered and strict seriousness, her far-seeing penetration, her night-vision, and her immense cool-headedness regarding her own power that excites and instructs me the most.
Angela: I think it's safe to say that a year of quarantine, with political events and struggle for social justice, qualifies as a non-negotiable invitation to examine our true selves, the wilderness within, but also negotiate with the trauma of global circumstances. You discuss the "Miracle of Solitude" in your paper, and both the positive and challenge of being introverted. Were there any miracles of solitude for you during quarantine, and how can we utilize archetypes such as Artemis in surviving our current circumstances?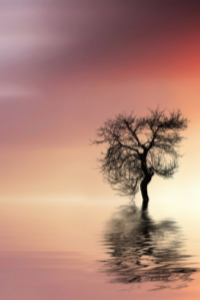 Gelareh: I spent the last seven years systematically dismantling the structures erected during the first half of my life, effectively ending years-long relationships, habits, patterns of thought and behavior—anything which tethered me to my regressive complex-driven past so that I could become who I feel myself to be in the deepest parts of my unvarnished soul: a bona fide scholar/hermit. For example, my cell phone almost never rings or dings or buzzes. That's because I have arranged things in such a way that no one bothers me. I find the way people set up their lives to receive nonstop ringing, buzzing, and dinging digital notifications to be a serious affront to the intensity of the psyche's ongoing mythopoetic work. Sustained and uninterrupted periods of solitude are a crucial necessity for one's relationship with the psyche to grow and mature and this is, I believe, one of the important lessons from all the Kore goddesses. We need to be immersed with periods where we are, like them, unto ourselves, self-sufficient within an inviolable sacrosanct state. Our culture aggressively promotes attention-seeking, so many of us are entangled in that sort of archetypal dynamic.
For me, the pandemic and the fact that residential sessions at PGI were canceled allowed me to burrow even further into my cocoon of solitude, and I'm happy to report that my wings are looking pretty good. I think it's helpful to detach somewhat from the events in the external world because I'm not entirely convinced that all of the stories are being equally expressed. I believe there are many brilliant and transformative events taking place, psychologically, across multiple dimensions, that don't make the front page, whereas fear and anger are all the rage. This is where Artemisian solitude comes to the rescue. Inner dimensions and direct archetypal experience can expand our view so that we can endure and persevere with more grace.
Angela: Not all of your research focuses on the dangerous wild, unless the disco dance floor can be accounted as such. You've presented two papers recently that sound like great fun: "A Numinous Disco Odyssey: Archetypal and Personal Transformation on the Disco Dance Floor" and "Inherent Ecstasy: How the Archetypal Velocity of a Female Disco Prophet Facilitates Liberty & Justice." What ideas were you exploring in these papers and what led to this as a research topic?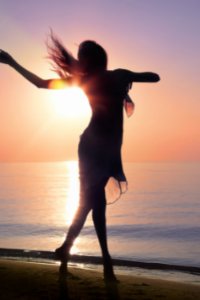 Gelareh: I was inducted about twenty years ago into what I consider to be a living esoteric religion which I call Disco. Most people associate disco with the over-the-top dance and music genre from the 1970's, but disco was and remains an underground religious dance tradition and the popular version of it is just that: pop culture, which tends to be temporary and vacuous. I owned and operated a dance and music venue in Honolulu for ten years. But after the space closed and I moved on to my new life as a scholar of Jungian and archetypal psychology, I realized that my spiritual and creative (but unconscious) imperative in this work of organizing beautiful and transcendent dance parties was the reclamation of the feminine principle, that my dance parties were essentially goddess reclamation projects. I realized that the properly sacralized underground disco dance party (which is a very specific thing, it has little to do with loud noisy nightclubs or raves) is a psychospiritual process of transformation, an alchemical event of self-realization.
Whereas for twenty years I focused on the literal expressions of this kind of practice, I am turning my attention now to articulating the philosophical and psychospiritual dimensions of disco. In this work, I am surrendering to the insistent and perpetual directives of my daimon, who is an Artemisian disco-goddess, an imago-Dei I call the Disco Prophet. She is a fierce archetypal energy who insists on the total liberation of consciousness, especially from the clutches of oppressive and dogmatic ideas of the past (i.e., the tired, old, bearded patriarchal Fathers and all their ancient restrictive beliefs). This is, in fact, the subject of my dissertation.
Angela: In 2020, you attended the virtual version of the Fates and Graces Mythologium, which was created by Pacifica alumni. You presented a paper on "A Preliminary Mythology of Disco." I've not yet been to the Mythologium and am curious about it. What was the experience like?
Gelareh: It was amazing. It took place just a month or so into the first quarantine and provided a beautiful and supportive structure where we all could share and receive knowledge and wisdom even though the world around us was in "lockdown." Our three hostesses were the epitome of graciousness and managed to organize everything so that we barely felt the loss of being on Zoom. The presentations were all deep and rich and the interactions among panelists and listeners were very nourishing. I was so glad and so grateful that I was a part of it and am happy to report that I am presenting a paper on the healing powers of the mythical musical duo, Artemis and Apollo, at the upcoming Mythologium.
Angela: Your CV shows an impressive number of exhibits as an artist. What role does art play now in your life, does it offer a therapeutic function, and how do you relate it to depth psychology?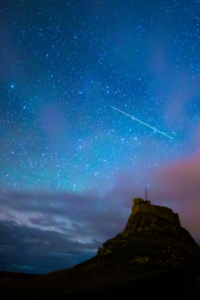 Gelareh: That old life I mentioned that had to be dismantled, it included me being mostly a visual artist and entrepreneur. I went to art school and never received any formal academic training until I arrived at PGI in 2016. But at some point, things began to shift and I realized that although I love to paint and draw, writing is what makes my soul really sing. Becoming a writer was a dormant destiny, one that graduate school helped to awaken. I also recently discovered the digital world of art-making. For years, I stubbornly resisted moving to digital formats, insisting that I am an analogue girl, as I am in my music (vinyl over MP3s, for example). But I finally got an iPad and a program called Procreate and I love it. I make digital artwork regularly and I post it on my website. Nowadays, I paint and draw mostly for my own edification, or, I should say, for the edification of the artist who lives through me. Art and depth psychology are like Oreos and milk. You almost can't have one without the other. In my view, visual art and imaginal poetry should be the primary languages of everyday life, or at least, they should be as primary as every other language because they are the language of the psyche and if no one speaks that language, then how are we supposed to communicate with the enormous powers of the unconscious? Without a successful relationship to the psyche, we cannot expect to grow into our full psychospiritual potentials and this is where visual art and poetry can be invaluable tools for understanding what the psyche wants and needs.
Angela: You have the distinction of not only having studied in our Engaged Humanities and the Creative Life with an Emphasis in Depth Psychology Master's Program, but also our Jungian and Archetypal Studies with an Emphasis in Depth Psychology, in which you have a Master's degree and are currently pursuing your Ph.D. What was it about these two programs that drew you to Pacifica and do you view one program as leading to another in your personal evolution?
Gelareh: Like many other students who find themselves shipwrecked on the nourishing and beautiful shores of Pacifica, I arrived in the middle of a period of intense upheaval. For me, it was the mid-life passage. I was lucky because as my ship tossed and turned, my best friend strongly encouraged me to apply to PGI's Humanities program which sounded perfect for me with my artistic background. Prior to this, I had read Memories, Dreams, Reflections and always had this intuitive sense that I would make a good psychologist but my lack of training made me fear that the academic life was not for me. I'm glad I ignored that fear. I always tell anyone who will listen that the Humanities program is like an alchemical vessel that will transform you if you let it.
The courses are amazing, a perfect balance of creative expression and academic learning. Drs. Susan Rowland Mary Wood are celestial guides who help you to become the fullest expression of yourself, whatever that may be, and each person in the revolving cohort brings their own brand of magic to bear upon the whole process. As the program progressed, I realized that I had found my true path and that becoming a Jungian and Archetypal scholar was my destiny. I needed more time with the material, so it made perfect sense to keep studying in the Jungian and Archetypal Studies program where I could keep honing my growing research and writing skills. Drs. LeGrice and Slater are like the masculine counterparts of the first duo, filled with dimensions of knowledge and wisdom that seem to go on forever. I consider myself infinitely fortunate to have found access to this world where much of the focus is on finding enough grace and humility to know your limits and even appreciate them.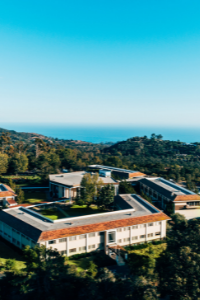 Angela: You probably remember what it was like, first starting out at Pacifica, attending one of our Experience Days, speaking with professors from different programs or perhaps an admissions counselor, how exciting and important the choice of programs was. You're in a unique positions to speak about two programs, and also the process of admissions. Can you give advice or guidance to someone who has just downloaded the Pacifica Guide and is starting out on their path to Depth Psychology and the community of Pacifica?
Gelareh: Well, first of all, anytime I speak to a prospective student, I strongly encourage them to apply and attend, because I believe that academic work with a depth psychological lens can help to save the world. The mission of our school is to re-soul the world because the world has been shorn of its mythic and archetypal dimensions and it is our job to help restore that missing dimension to human consciousness. To me, this is more important than any other work, more urgent now than ever. So attending PGI is not only about personal preferences, goals, and aspirations, but can be viewed as a form of service to the soul of the universe on a cosmic scale and to the human species (and all the living beings we are destroying with our ignorance) on a micro scale.
But what is extraordinary about PGI is that even as you become a person who lives to serve others, your own soul undergoes a miraculous transformation and you become bigger and wider and fuller. Your capacity to love and give freely expands and consciousness soars. Perhaps for some people there are dimensions of life that are more important than these things, but for me, as it was for Jung, the expansion of consciousness is the singular purpose of life and if we aren't moving in that direction then we are robbing the universe of its share of beauty and love that we owe to it.
Having been through five straight years of graduate coursework at PGI, I can attest to its potent transformative qualities on the personal level, as well. I have managed to build a completely new career path for myself, so cultivating practical elements that support day-to-day life are also viable. Also, I just want to say that at the start of it all, I did not necessarily have a clear idea of what it was that I would become. So a certain level of unknowing and swimming in ambiguity, especially in the first year, is part of the process.
Angela: When you graduate with your Ph.D. from Pacifica, how do you envision your professional life growing and evolving? Do you feel your time at Pacifica will give a legacy you carry with you in your future adventures?
Gelareh: It's really an amazing thing to consider. Just a handful of years ago, I was convinced that I was a "loser" who would never amount to anything, struggling with mighty complexes that had me in their death grip. As PGI students will know, Jung wanted to call his psychology Complex Psychology, not Analytical Psychology, so strongly did he believe that complexes were the very heart of all psychic life. To be a part of the legacy of PGI, a proud alumni and enthusiastic cheerleader for its mission and purpose, is truly a privilege. Why? Because at PGI I learned about my complexes and how to live with them harmoniously, and I learned how to teach others to achieve a similar feat in their own lives. I can't think of anything that is more important than learning about and understanding how the psyche works so that we can expand consciousness and become peaceful, kind, expansive yet humble individuals who work toward the betterment of all beings. This is the only way the world will ever evolve into a peaceful place where war and aggression are no longer the primary frequencies of the day.
What I love most about PGI is that it stands apart from the traditional academic world and its rigid patriarchal standards. In that sense, my rebellious outsider Kore nature is in accord with PGI's emphasis on individuation and its rejection of mass-mindedness and groupthink.
Angela: Thank you so much for your time and inspiring comments!
---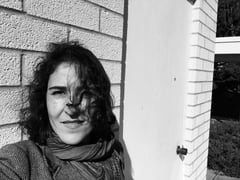 Born in Iran, Gelareh Khoie is an artist, writer, scholar, and DJ. Her artwork has been widely exhibited in group and solo exhibitions and has received numerous awards. She has curated multi-media art exhibitions, conceived and implemented creative arts and live music events, and she operated an art and music venue called thirtyninehotel in Honolulu, Hawaii. She holds a BFA in painting and art history from the San Francisco Art Institute and two MAs in depth psychology from Pacifica. Her websites are: www.gelarehkhoie.com; www.discoliberationmovement.org. Her artwork featured in this article is all from "The Big Book of Rain," an old book of morality tales that she filled with collages paintings, drawings, and writing.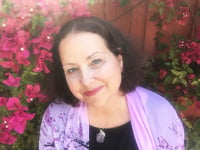 Angela Borda is a writer for Pacifica Graduate Institute, as well as the editor of the Santa Barbara Literary Journal. Her work has been published in Food & Home, Peregrine, Hurricanes & Swan Songs, Delirium Corridor, Still Arts Quarterly, Danse Macabre, and is forthcoming in The Tertiary Lodger and Running Wild Anthology of Stories, Vol. 5.