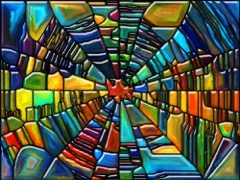 A guest post by Bonnie Bright, Ph.D.
C.G. Jung contended that our personalities are made up of a multitude of archetypes, Dr. Keiron Le Grice, Chair of the Jungian and Archetypal Studies program at Pacifica Graduate Institute, reminded me when he recently sat down with me to share his insights into the field of depth psychology. Each archetype asserts its own aims, moods, and ideas on our personalities, influencing our lives on a day-to-day basis. Jungian and depth psychologies, by aiming to make what is unconscious conscious, offer an entrance point into recognizing and understanding the various deep forces that move through us from one day to the next, engendering a deep comprehension of the psyche and the motivations, instincts, and impulses that are at work in our lives.
Individuation, a term coined by Jung, is a way that we can come to terms with this multiplicity of forces, and to attune to a greater organizing force, perhaps looked at as "the god within." An archetypal view can enable us to find deep meaning in life, Keiron notes. We live in a time when we no longer have a religious, spiritual, or mythological framework to provide orientation in our lives. To be able to turn within, through the study of dreams and synchronicities that occur to us, through direct engagement with the unconscious and through spiritual experiences, we can begin to find our own personal sense of meaning. When we encounter the numinous, (a term coined by Rudolf Otto and adopted by Jung), that tremendous and fascinating mystery that underlies our experience can ground us in our own spiritual and moral autonomies. We need to each find our own individual myth at a time when the collective myths are rendered invalid by the dominant scientific rational perspective in the western worldview.
Read More