Depth Psychology in the World: New President Joseph Cambray on Extending the Vision for Pacifica Graduate Institute
A Guest Post by Bonnie Bright, Ph.D.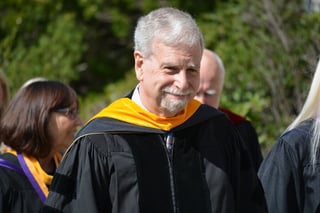 As the newly appointed President and CEO of Pacifica, Dr. Joseph Cambray is no stranger to the Institute. With a long history as a Jungian analyst, he began teaching as adjunct faculty in the Depth Psychotherapy Program (now the Ph.D. in Depth Psychology with Specialization in Integrative Therapy and Healing Practices) at Pacifica in 2010, and started serving as provost in 2015. During his tenure as president of the IAAP (International Association for Analytical Psychology), which ended in 2013, Cambray had become increasingly interested in the diversification of depth or analytical psychology (often these two terms are used interchangeably) that he was witnessing on the worldwide stage as it moved into new communities. He was drawn to Pacifica in part because he perceived the powerful opportunities it offered to pursue new directions in depth psychology and to help grow depth psychology on the world stage.
Cambray observes that analytical psychology or depth psychology is in the midst of a "major paradigm shift" across all disciplines. He has been particularly drawn to complexity theory and the idea of "a new, holistic approach to systems that ultimately comes out of an ecological understanding of the world." Depth psychology holds a unique position as a connector between inner and outer worlds, he believes—a concept that is fundamental to the nature of reality. He cites a shift from previously held Cartesian divisions between subject and object to profound advances and the growing knowledge of the interconnectedness of everything.
Whether it's about forest ecology or the way in which the academic disciplines ultimately engage with one another, or the provenance of ideas and where they've come from, the way that becomes lived in the world requires us to look at the environment of social systems, and to realize that it's virtually impossible to separate ourselves from the others, Cambray suggests.
"That kind of old modeling, whether it's at a cultural level or an individual level, is beginning to break down," he maintains. "That's where depth psychology and its interest in the margins actually continues to hold a pioneering component to it. [It's] no longer about exploring the individual psyche, but really, more of these larger connections." When he stepped into his role as provost, he queried his Pacifica colleagues to begin to understand what depth psychology in the 21st century looked like to each of them. He became excited by the diversity of answers and immediately understood the plethora of possibilities it opened up for research.
Now, he envisions building a research center at Pacifica, where students, faculty, and post-docs could get grants, conduct research, or serve as research associates and fellows for outside research groups from a variety of other disciplines, including fields like neuroscience. Building a database of tens of thousands of dreams for the Global Dream Initiative, which could then serve as a resource to help us begin to understand something about the anima mundi, the soul of the world, is one example of the kind of project such a research center might serve. Cambray also plans on engaging Pacifica more with the local neighborhoods via students and faculty so that community resources such as firefighters and city planners might be able to experience depth psychology at work. Having more involvement with veterans or emergency responders, which could involve a mental health component, is also an example of community involvement that may be of interest, as is running creative explorations or conferences with other universities via departments like art history, religious studies, or neuroscience—anywhere that may benefit from using a depth psychological lens. Building on field work done through existing programs at Pacifica, including the Somatic Psychology Specialization or Community Psychology, Liberation Psychology, and Ecopsychology Specialization might also offer exciting entrees at the intersection of research and community involvement.
In the field of analytical psychology, where one of the challenges can be that the work remains academic and doesn't always allow for a more hands-on, interactive approach, these kinds of ideas are groundbreaking, I believe, and Cambray agrees. When we begin to look at the enormous transformation analytical psychology has experienced in the last 120 years and combine it with some big shifts that are happening in higher education, new models are emerging, he notes. Scholarship in the 21st century is being transformed.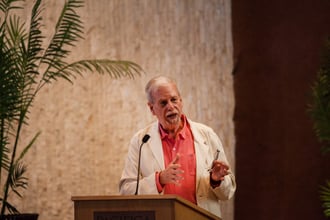 The modern world presents a number of challenges that can be aided by depth psychology. One of the values in depth psychology, no matter which tradition you draw upon, Cambray notes, is the emphasis on learning to tolerate uncertainty; to become curious about things we don't have answers or solutions for. That requires some ability to slow down and to access our reflective function; to build a reflective capacity into our engagement with the world.
How do we slow down and become curious enough about one another in a way in which we are approaching things? At the level of research, this offers a way of "thinking together," he insists. Through the process of interaction with other researchers, with the topic itself, and with the substance of it, it enables us to move beyond "evidence-based only" kind of thinking. While the evidence-based approach can be valuable, it doesn't speak to soul very easily, he points out. We have to look beyond the cultural inclination that wants to hasten everything and seek instead a holistic perspective in order to "really begin to identify the patterns and the trajectories of those patterns that we're all within." We're inside those patterns, rather than being on the outside of them, he reminds me, and when people tune in, those patterns starts to emerge. We are all hungry for soul.
Whether we in contemporary society choose to trace the idea of soul or psyche back to its pre-Socratic Greek roots, or whether we turn to indigenous traditions all over the world that recognize something of this more holistic way of being, we need something that allows us to more deeply understand the complexity of things, the way they're interconnected, because that's also where soul is, Cambray insists.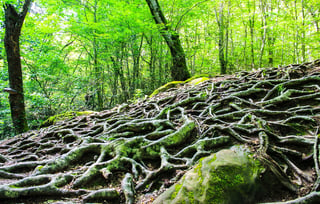 For example, in forest ecosystems, root systems are interconnected through fungi made up of hundreds, if not thousands, of different, distinct beings all in a connected net. That's the soul of the place, he offers. We haven't had the kind of scientific tools to articulate this before now. We've done it through intuition, much the same as working with dreams, for example. Developing the skill of using intuition to see and identify patterns, which is so critical in dream work, is a wonderful and powerful way to marry with other ways of knowing the world. When the subjective and objective divisions begin to break down, we can begin to look for the richness and complexity in the way we envision soul. It has a scientific, cultural, literary, and a personal dimension, Cambray avows, and addressing all these levels is one of the ways he sees Pacifica creating an impact moving forward.
Cambray goes on to discuss some exciting plans for expanding existing "Introduction Days", formerly geared toward potential new students to include more current students and alumni, as well as amping up the complimentary Friday Evening Salons that take place in conjunction to offer even more diversity and exposure to the range of ideas and the experiential aspect of Pacifica. There are also plans to do more with student services and helping people imagine careers going forward. Cambray was recently struck by an article in The Chronicle of Higher Education which concluded that the future of work lies in two areas: creativity and empathic capacities. He felt it resonated strongly with the heart of Pacifica, noting that empathy goes far beyond the ego into the many multitude parts of the psyche, ultimately serving the wellspring of creativity.
Cambray also referenced the ambassador program now in place for Pacifica alumni, giving them a chance to share the complexity and range of how they're living depth psychology in their lives through a diverse number of careers and experiences. He explained the mission of "The Retreat" at Pacifica Graduate Institute, which gives folks a chance to stay on the stunning Ladera Lane Campus in the Santa Barbara foothills so they can pursue personal interests in greater depth. Current public programs available through The Retreat include memoir writing, depth mentoring, and understanding trauma, among others. People can come to Pacifica through The Retreat and step outside the pressures of their everyday life, taking the opportunity to dive deep into something that's really meaningful and important to them, Cambray notes.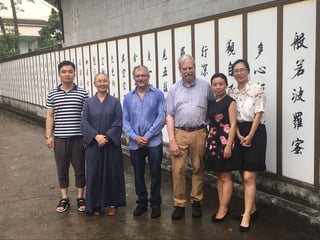 For the immediate future, Cambray is very excited to reveal new plans for an international component of Pacifica, a series of satellite campuses in different parts of the world which will be geared to the local languages, cultures, myths, rituals, and folklore in the area. With Santa Barbara remaining as the hub, these satellite campuses will extend Pacifica and the Pacifica vision into a kind of global network that continues to extend the diversity and the inclusivity of a depth psychological approach. Negotiations for piloting the first international satellite campus in Ghangzhou, China, are already underway.
Cambray, who has served as acting president at Pacifica since February of this year, is excited and challenged by the role he has taken on. There are a lot of moving parts, he admits: It's a bit like being a conductor, and the music is increasingly complex. There are more and more parts and more and more elements to the symphony, but it is a role he that inspires him to every-increasing innovation as a leader, and to continually seeking to gain input and support from his team.
Having been a Jungian analyst for many years, Cambray maintains daily practices that enable him to stay connected to soul, and when he goes home at night, he often finds himself taking meditative time to "really locate where [he's] been through the course of the day," allowing for course correction when it's required.
Personally maintaining the kind of depth psychological approaches and initiatives Cambray envisions at Pacifica in his own role as President and CEO will surely result in the kind of soul-centered leadership required to follow these exciting visions into the future, expanding depth psychology on a worldwide scale and growing soul in the world. We wish him the best of luck on the journey!
Listen to the full audio interview with Joseph Cambray here (approx. 38 mins):
Watch the full interview with Joseph Cambray on YouTube here (approx. 38 mins):
Read the press release about Cambray's appointment to President and CEO of Pacifica
View the full photo album for the Inaguration of Dr. Joseph Cambray as Pacifica's new president
Revisit a 2016 interview, "The Therapy Room and the Interactive Field: Dr. Joseph Cambray on Becoming a Supervisor in Depth".
Hear Dr. Cambray recount how he discovered Depth Psychology in the interview "How Depth Psychology Found Me".
Learn more about Pacifica: www.pacifica.edu
---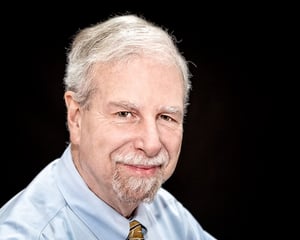 Joseph Cambray, Ph.D., is President/CEO and Provost at Pacifica Graduate Institute where he was most recently serving as Provost and Vice-President of Academic Affairs there. Dr. Cambray is also a Jungian analyst. He is Past-President of the International Association for Analytical Psychology (IAAP), and former U.S. Editor of the Journal of Analytical Psychology. For years, he was on the faculty of the Center for Psychoanalytic Studies at Harvard Medical School where he co-taught a year-long course on becoming a supervisor. His numerous publications include the book based on his Fay Lectures: Synchronicity: Nature and Psyche in an Interconnected Universe; a volume edited with Linda Carter, Analytical Psychology: Contemporary Perspectives in Jungian Psychology; and a two-volume compendium on research in analytical psychology co-edited with Christian Roesler and Leslie Sawin, which is currently in publication. In addition, he has published numerous papers in a range of international journals.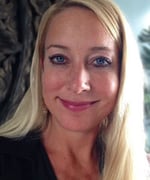 Bonnie Bright, Ph.D., is a graduate of Pacifica's Depth Psychology program, and the founder of Depth Psychology Alliance, a free online community for everyone interested in depth psychologies. She also founded DepthList.com, a free-to-search database of Jungian and depth psychology-oriented practitioners, and she is the creator and executive editor of Depth Insights, a semi-annual scholarly journal. Bonnie regularly produces audio and video interviews on depth psychological topics. She has completed 2-year certifications in Archetypal Pattern Analysis via the Assisi Institute and in Technologies of the Sacred with West African elder Malidoma Somé, and she has trained extensively in Holotropic Breathwork™ and the Enneagram.