by Susan James and Mary Watkins, Co-Chairs CLIE, Pacifica Graduate Institute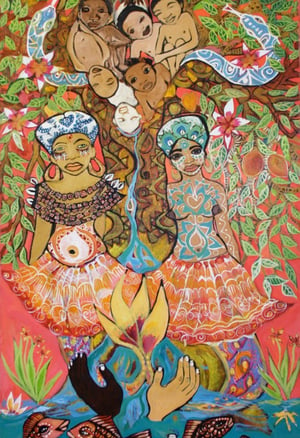 Our M.A./Ph.D. specialization in Community, Liberation, Indigenous, and Eco-Psychologies (CLIE) in the department of Depth Psychology is a bold initiative to forge interdisciplinary and transformative approaches to the social justice, cultural, and ecological challenges of our time. We look forward to the completion of your application in the coming weeks so that we might meet with you this year about this unique graduate program. An early completion of your application is helpful if you are applying for financial aid.
Our curriculum in CLIE provides training in several lineages of depth psychology, which are placed in dynamic dialogue with critical community psychology, indigenous, liberation and eco-psychologies from a variety of local cultural perspectives worldwide.
To study each area of this transdisciplinary curriculum is a commitment to create paths to social and environmental justice and sustainable living. In coursework, you'll be introduced to ways of understanding and addressing the structural violence and collective traumas that effect individuals and communities in contemporary cultures. Additionally, praxis classes will mentor you in innovative group approaches including the following: council/circle, critical inquiry, decoloniality and anti-racist praxis, theater of the oppressed, community dream work; liberation arts; restorative justice; somatic approaches to trauma healing, conflict transformation and peacebuilding, libertory pedagogy. Students acquire skills and competencies in community building and empowerment, social network analysis, community and organizational evaluation, participatory action research, as well as qualitative, visual, arts-based, and indigenous research methodologies.
Our faculty pursues a wide range of interests and topics including psychosocial accompaniment of migrants, environmental justice, restorative justice, prison abolition, indigenous psychologies, relational methodologies, and indigenous spiritualities. You can read about faculty and student work in our annual publication Hearing Voices. We are currently enrolling; please visit our website for more here.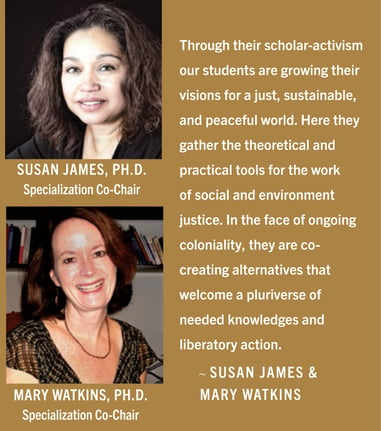 *Art: "Guardiaes da Porta da Vida" by Sarah Dearie