Part III of III
by Angela Borda
I was fortunate to recently sit down with Professor Bennett, an integral member of Pacifica's faculty, for many years the Co-Chair of the M.A. in Counseling Psychology, and now the Chair of a new program Pacifica will be proud to offer in Fall 2020, the PsyD in Counseling Psychology. This is part 3 of a three-part interview.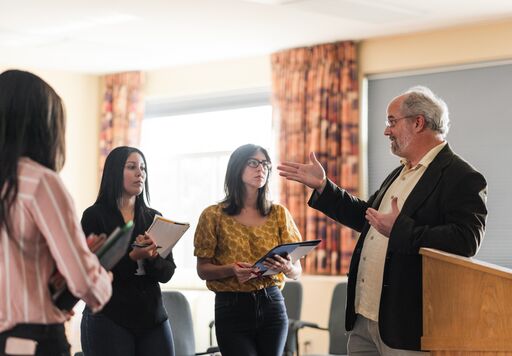 How long is the PsyD Program and is clinical training required?

The PsyD is designed to be completed in four years total: three years of curriculum plus one year of pre-doctoral internship. The PsyD will require students to complete 1000 hours of practicum, generally during years two and three of the program, followed by 1500 hours of internship generally taking up year four of the program.

How is the academic calendar arranged?

The PsyD program will hold classes on a quarter system, with three sessions per quarter comprising three-day sessions (Friday morning through Sunday afternoon) approximately once each month during Fall, Winter, and Spring quarters, with a seven-day Summer session, over a period of three years. The fourth year does not include attendance of classes on campus, although students typically continue to work on their dissertations during this time.

What is the relationship between Pacifica's MA in Counseling Psychology and the PsyD in Counseling Psychology?

Both the MA and the PsyD programs are administered in a common administrative structure through Pacifica's Department of Counseling Psychology. However, the two degree programs are separate curricula with their own admissions and graduation requirements. Graduates of the MA Counseling Program must apply and be accepted into the PsyD Counseling Program


What transfer credit opportunities are available for graduates of the MA Counseling Program who wish to enter the PsyD program?

Graduates of the MA Counseling Program, upon being accepted into the PsyD Program, will be credited all the PsyD coursework during Fall, Winter, and Spring Quarters of the 1st year. In other words, graduates of the MA Counseling Program would enter into the PsyD program at Summer quarter of 1st year, and then proceed to complete the other two years of the curriculum plus the pre-doctoral internship.

What was the inspiration or impetus for the creation of this program and how is it unique in comparison to what other schools may offer?

With a lengthy history of providing effective instruction and training to Masters Degree students in depth psychology, the Department of Counseling Psychology developed the goal of extending the educational opportunities for students who want the same quality, rigor, and emphasis on depth psychology at a doctoral level, and who wish to become licensed as psychologists. The PsyD in Counseling Psychology occupies a rare space combining doctoral level academic instruction and clinical training with Humanitarian and Depth Psychological values.


Please describe what a typical three-day session is like. What experiential learning and collaborative processes are part of these person sessions?

A typical three day session (i.e., academic sessions in Fall, Winter, and Spring quarters) ranges from 8:30 AM to 8:00 PM Friday and Saturday, and to 3:30 PM on Sunday, and may start with a morning seminar bridging clinical practice with academic learning, followed by a range of other classes on topics related to clinical practice, theory, and research. Because the program focuses on depth psychology and psychodynamic principles, the curriculum is designed to be immersive and experiential, with a premium placed on encouraging students to interact at profoundly meaningful levels with the course material. Consistent with the principles of depth psychology, the curriculum and pedagogy is designed to encourage emotional honesty, self-exploration, tolerating strong emotions, and working in deeply interpersonal and relational ways with faculty and other students.


What can students expect during the the dissertation process?

The dissertation is a time-honored centerpiece of the doctoral education. In the PsyD program, students are asked to take on dissertation topics which represent doctoral level work which contributes meaningfully to the literature of Counseling Psychology, amplified and enriched by perspective afforded by depth psychology and psychodynamic theory. Students begin taking courses related to qualitative and quantitative research in first year, culminating with a Dissertation Development course in Spring of Second Year which marks the official beginning of the dissertation writing process. Students work with a dissertation chair and a dissertation committee to provide guidance, feedback, and encouragement to the student during the dissertation writing process, which is designed to span from Spring of Second Year to the Fourth Year, in which students are concurrently placed on internship. The dissertation writing experience is supported and enriched by a series of Dissertation Completion credits, which reflect the ongoing work with the committee, and Advanced Methods courses which are formal classes held on campus. The process culminates in a dissertation defense, in which the finished manuscript is presented to the committee and others who may attend the moment.

Matthew Bennett is a licensed clinical psychologist, lecturer, and administrator with experience in public sector mental health and substance abuse treatment. He has broad experience in program development. He was formerly founder and first Director of Training for the Ventura County Behavioral Health Pre-Doctoral Internship in Clinical Psychology and Chair-Elect of the Psychology Department at Ventura County Medical Center in Ventura, California. His research interests include personality disorders, comparative personality theory, and internet applications for mental health. Dr. Bennett is also a returned Peace Corps volunteer ("Poland III, 1991-1993").