An Interview of Pacifica President Joseph Cambray
by Angela Borda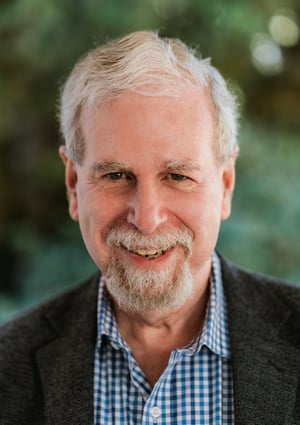 Angela Borda: We are fortunate to have Dr. Peter Rojcewicz as our new provost, a post which you previously held in conjunction with the post of president. Please describe why Peter was your choice for provost. How is his background in psychology, administration, and poetry a good fit for Pacifica?
Dr. Joseph Cambray: While I made the final choice among the candidates for the position, I would extend this to say that Peter was Pacifica's choice. We began with an extensive national search with two rounds of committees. The first one vetted the qualified applications and then the second, a selection committee developed criteria and choose the top two candidates to bring to Pacifica. We held a day and a half set of interviews with each of the candidates, in which we introduced them to the president's council then the IMC. They each gave a presentation open to the entire community, town hall fashion, relating their vision and style of leadership as they would imagine it for Pacifica. After they met with our Senate Leadership Committee and Circle of Chairs on the second day, we ended with our board Chair and myself having a final discussion with them and processed the experience of the interview together. Through that, we reached a consensus of opinions. When taken in conjunction with my direct experience of speaking with them in depth about the coordination necessary between provost and president, it was clear to me that Peter was best suited to embody the ethos of Pacifica, and that he could assist us in exploring our most salient opportunities for future growth. He has a very strong scholarly background in the humanities, including doctoral work in folklore and folk-life, a close fit to Pacifica's mythopoetic, depth psychological orientation. In his illustrious career he was a dean at Julliard, an upper administrator at several universities, and has taught at Jungian institutes. He understands the intersections of art and science and how that echoes in the intellectual life of Pacifica. He's also accomplished in the world of accreditation, so he brings a skill set that compliments much of what is here at Pacifica and will helps us move in the directions we're seeking to pursue in the next few years. I feel fortunate and privileged to have Peter join us as the provost.
AB: How do you see your duties as president evolving or broadening now that Peter will be serving as our provost? Are you excited for any projects you have in mind for Pacifica?
JC: Having Peter as provost will free me to more fully pursue the tasks and opportunities I have in my role as president. Pacifica is complex and sophisticated; the jobs of president and provost each deserve the full attention of a dedicate individual. There are a number of projects I'm keen to take on, and with Peter helping with the day-to-day administration of Pacifica, I'll have the time and resources needed to dive into those ventures. One of my priorities is contemporizing the institution on multiple levels, for example, redesigning programs in ways that keep them on the leading edge of their fields. I plan to enhance the international dimension of our programs, increasing the number of international students that come to study with us and expanding our reach to future students from around the globe. As our alumni association grows and spreads through the world, we have representation in many countries and I'd like to see greater receptivity to the international scholarly community, offering a welcoming, engaging base at Pacifica. I'll also focus on enhancing our online capacities, increasing the diversity of our programs with an online emphasis, offering more certificates and immersion experiences including those with a residential component. As a community we are also beginning to imagine a host of new opportunities that will explore the newest technologies evolving for virtual classrooms.
AB: Pacifica is happy to debut a new program, the Psy.D. in counseling psychology, chaired by Matthew Bennett. This program is described as immersive, organized on the principles of psychodynamic psychology, and prepares the student for licensure as a licensed psychologist. Please describe how the idea for this program came about and what it adds to Pacifica's already broad range of programs.
JC: There are several components to this: The Psy.D. had originally been housed within clinical psychology program, and this program has over the years really enhanced its research interests and focus, so while people train as clinicians they're introduced to human sciences research, to the phenomenological, hermeneutic, and humanistic aspects of psychology. The clinical faculty's commitment has intensified in this direction, so the Psy.D. Program, with an emphasis more on the training of scholar-clinicians seemed optimally placed in conjunction with our counseling psychology program. We already have a Master's program in counseling psychology and as we studied the situation more deeply, we realized we could restructure the Psy.D. in a way to create new opportunities for aspiring clinicians. For example, the new design accentuates the development of depth psychological skills and offers the graduates of our M.A. program the opportunity of a fast track to the doctoral degree by allowing the transfer of nearly a year of credits from their M.A. This would reduce their doctoral work by a year and correspondingly reduce their costs by the same amount. To do this the student needs to be a graduate of the 93 unit M.A., so there are a significant number of alumni who can pursue this doctorate by applying their previous classwork to this end. This will in turn allow them to broaden the range of what they can do as clinical practitioners, i.e., the ability to function at a doctoral level as a psychologist. We think this is something that would be very attractive for our graduates as well as more generally offering those interested in doctoral level psychological practice a unique opportunity to develop as psychodynamically oriented clinicians steeped in wisdom traditions associated with depth psychology.
AB: What most excites you about this program and what kind of student do you most see benefiting from it?
JC: We're excited by the possibilities inherent in the new program. It is designed to integrate various streams of knowledge from the latest advances in a number of fields, from scientific to the spiritual disciplines, that can be woven together into a unique depth approach. Students who are to benefit the most are those who seek a broad integrative approach that will challenge them to develop as a person as well as a clinician. We've also been privileged to offer Coverdell fellowships for this program. These fellowships are for returning Peace Corps volunteers who can apply to this program and if successful, receive three years of partial tuition waivers. The chair of the program, Matthew Bennett, was himself a Peace Corps volunteer, so he has a true appreciation of the value of such an experience and is poised to help students succeed in the program.
AB: In broader terms than the Psy.D program, what are you most looking forward to at Pacifica in 2020?
JC: We've really been wanting to expand the list of offerings from our retreat center, so we're looking forward to online offerings, looking to host groups from other countries who want an immersive education. We have a highly successful trauma certificate program this year consisting of four weekend sessions. Our "Magic on the Margins" conference in June 2020 is really an innovative development for Pacifica, it's evolving and expanding our usual conference themes to appeal to a broader audience. We're also looking into partnering with a number of related outside organizations.
AB: You're deeply engaged here at Pacifica as our president. Concerning your own work and research, what can we look forward to from you?
JC: I still teach, primarily as a guest lecture in our programs, and for various national and international groups. Also, I strive to remain actively involved in the scholarly side of the field of depth psychology. For example, I have an upcoming article titled "Towards a 21st Century Model of Psyche: Altered States, Oracles and Intelligences" in an anthology.
Dr. Joseph Cambray is CEO-President at Pacifica. He is also former President of the International Association for Analytical Psychology; he has served as the U.S. Editor for the Journal of Analytical Psychology and is on the Editorial Boards of the Journal of Analytical Psychology and The Jung Journal: Culture and Psyche. He has been a faculty member at Harvard Medical School in the Department of Psychiatry at Massachusetts General Hospital, Center for Psychoanalytic Studies; and adjunct faculty at Pacifica Graduate Institute. Dr. Cambray's numerous publications include the book based on his Fay Lectures: Synchronicity: Nature and Psyche in an Interconnected Universe; a volume edited with Linda Carter, Analytical Psychology: Contemporary Perspectives in Jungian Psychology; and another Research in Analytical Psychology - Volume 1: Applications from Scientific, Historical, and (Cross)-Cultural Research, (2018) edited together with Leslie Sawin. Some of his recent papers include "Enlightenment and individuation: syncretism, synchronicity and beyond," in Journal of Analytical Psychology, 64(1) 53-72 (2019). "Neuroscientific Studies of Trauma applied to Jungian Psychology," in Research in Analytical Psychology - Volume 2: Empirical Research, ed. C. Roesler, New York & London: Routledge (2018). "Moments of Complexity: Non-local aspects of moments of meeting," in Moments of Meeting in Psychotherapy, ed. S. Lord, New York & London: Routledge (2017). "Darkness in the Contemporary Scientific Imagination and its Implications," in International Journal of Transpersonal Studies, 35 (2), 75-87, (2017). Courses taught at Pacifica include in the Jungian and Archetypal Psychology Specialization: "Synchronicity and the New Science" and "Introduction to Depth Psychology." He has also taught courses in DPT, DPS, CLIE, and Clinical Psychology programs and lectured in the Mythological Studies program.