By Nadia Thalji, Ph.D., Clinical Psychology, Pacifica Graduate Institute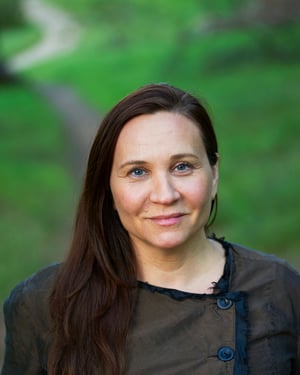 In these moments of challenges, I find comfort in recalling the holding space that Pacifica provided, and continues to provide, through lasting friendships and companionship. I recall the life-changing encounters with my fellow classmates, and the precious sharing and witnessing of each other's unfolding.
The exposure to new concepts, teachings, and discussions. The generous exchanges with professors, mentors, and librarians. The smiling cooks who prepared delicious meals to soothe our mind and bodies after intense classes. The birds and trees that brought beauty, balance, and proportion every day.
When I first walked into the landscape that houses the Ph.D. Clinical Psychology Program at Pacifica, I felt welcomed by the beauty and warmth of people and the atmosphere of introspection and contemplation. During my first interview, which was with the chair of the department, Dr. Oksana Yakushko, I shared my passion for diversity, and my research interests. I could see in her eyes that there was a legitimate interest in knowing who I was, and what I wanted to pursue. I recognized that she was the kind of person I was looking for to mentor me as a clinician and as a scholar that would carry on the work of the soul. Later, through her continued support and guidance, I presented in several conferences and co-published some of my research with her.
Along the way, I also found other mentors, such as the chair of my dissertation, Dr. Avedis Panajian, a knowledgeable and solid presence for many of us. Since then, I've been on this path of Depth Psychology, seeking the depth of inquiry that comes from the psyche itself.
Our pursuit for meaning is highlighted with the pandemic; the eruptions of unconscious material, the flaring up, the acts of violence and compassion, polarities that co-exist. Our collective unconscious is a mysterious realm, and is continuously spilling over into our world as manifestations of the psyche.
We are being invited to heed to the collective wake-up call to the power of the psyche and to engage intentionally with our souls. The global crisis seems to be telling us that it's only through our effort as a collective species that equilibrium may rise in the midst of chaos.
We are being invited to examine inter-connectivity, which is planted at the core of depth psychology. Pacifica honors the heart of indigenous cosmology, which can be defined as inter-connectivity. Pacifica is a community of scholars and clinicians that are at the service of social justice, seeking to heal and repair the wounded soul of the world. My heart goes out to the families that are grieving and I hope to serve in the most meaningful way that I can.
We're accepting applications for Fall 2020. Consider joining us for one of our virtual Pacifica Experience Days, so we can get to know one another better. Here.
Dr. Nadia Thalji's depth psychological clinical practice focuses on experiences of immigrant, refugee, and bicultural/international individuals. Her work also includes focus on indigenous rights and healing practices, especially in relation to peoples of the Amazon basin. During the time of the COVID-19 pandemic, Nadia has offered numerous free webinars to diverse communities that offer clinical depth insights and support in times of a communal global crisis.