A guest post by Bonnie Bright, Ph.D.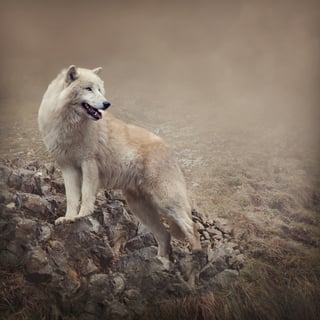 Susan Grelock has been busy lately—albeit busy in a way that many of us have probably not contemplated in lives filled with jobs, family, and a daily dose of media, be it via Internet, TV, or on-demand series we can binge-watch at will. Susan has been speaking with artists and biologists who have an interest in wolf conservation. During her research, she got really interested in the Yellowstone-Teton region because it's a focal point for wolf conservation, especially with their fairly successful wolf re-introduction project that is now nearly three decades old. Wolves are also crossing down from Canada and breeding with local populations, so wolves are now "crossing paths with humans" in that area in ways they haven't done in North America for almost a century. Artists there also seem to be focused on depicting wolves to instigate interest and to spur conversations about them, perhaps in new ways.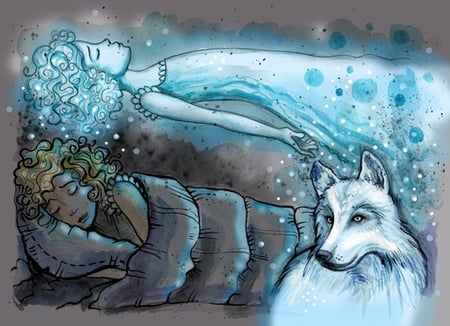 Recently, Susan took some time to share with me how her journey led her to Yellowstone National Park when wolves entered her life through dreams. As a result of paying attention to her dreams and applying a depth psychological lens, rather than simply looking at the wolf as a dream symbol as psychology might tend to do, she began painting wolves to be able to better understand them and to enter into more of a lived experience of them. In this way, wolves went from a dream animal to something she began experiencing every day in her life. As a result, Susan began to wonder about wolves, their history in California where she lives, and where they had gone for the past 80 to 100 years. At one point she even found herself speaking at a state hearing for wolves; making statements on behalf of others who wanted endangered species status for wolves in California should wolves ever start to return, which now they are.
At one point during our conversation, I wonder how Susan describes just how her work with wolves is related to depth psychology. She offers how, historically, an aspect of social activism was present in the early beginnings of depth psychology, and how, over time, this movement shifted to the psychoanalytic or "consulting room" model. In the Community Psychology, Liberation Psychology, and Ecopsychology (CLE) Specialization of the Depth Psychology Program at Pacifica, community psychology is merged with ecopsychology and depth psychology, emphasizing rootedness and bring depth psychology to bear on cultural issues. This is where the next phase of depth psychology is focused, she believes.
Susan notes that she has learned to hold psychology in that way, informing both her social activism and her lived everyday experience as a human. It is not just the part of the psyche that is more individual and more personal that is involved, she believes, but also the part that really takes it into the collective.
During our conversation, I'm reminded of a remarkable book by archetypal psychologist James Hillman, titled Dream Animals. When animals show up in our dreams, they may be spurring us to not only to take action on behalf of their own species, but also to raise our own consciousness, Susan suggests. She reminds me that the paintings in that book are done by Margot McLean (wife of the late James Hillman) who also writes in the book and who points out that the dream animal is not just the symbol of a fox, but is also the "fox under our porch" and that these dream animals often show up not just for the benefit of the individual but they are also a part of the psyche. Dreams are a place where we interact with those animals, even as they are becoming more and more marginalized on the planet, Susan contends.
We mustn't become detached from lived experience, Susan believes, citing a specific event she encountered during her research with wolves. She never really expected to see wolves in the wild, she recounts, because after speaking with so many artists, photographers, and film makers, and scientists—and then being in an area of the country where wolves live in packs—she wasn't sure she even felt the need. But then, last April, she was in Yellowstone and stopped to talk to some wolf watchers, including scientists, standing alongside the road hoping to see wolves in the wild. She wondered what motivated them to spend long hours standing outside in the cold, often with no results.
At that moment, one man who was looking through a scope, Rick McIntyre , who has been an integral part of the wolf project in Yellowstone for years, turned to her said, "Would you like to see your dream come true?" She still finds this funny, now as she relates it to me, because it was indeed a dream that instigated her research in the first place. She looked in the scope, and to her amazement, and saw a dozen or so wolves of the "Mollie" pack racing across the Lamar Valley landscape. The experience altered her profoundly, Susan reveals. It was so "otherworldly," but so "right there." Seeing wolves was like an epiphany to her. The fact that McIntyre used the words "dream come true" when he invited her to view the pack through his scope, it "illuminated the connection between our dream life and our lived life and how psyche is immersed in all of that and its continuous," Susan said.
I note the synchronicity at work in Susan's experience; it's something that is going on all the time around us, but the way she showed up in response to a call in the form of a dream and happened to be in exactly the right time and place to witness wolves running wild in Yellowstone is quite numinous and remarkable. Susan expands on the synchronicities, describing a meeting with one woman artist who had grown up for part of her childhood on reservation in Canada and was aware of the presence of wolves but hadn't thought much of them much as an adult. Once she retired from a traditional job, this woman began being visited by wolves in her dreams, which she then started painting as a completely self-taught artist. She now produces remarkable images of wolves, including wolves and people that almost seem to merge. Susan realized, on conversing with this artist, that people do indeed dream about animals and these animals enter their waking life in interesting ways.
Susan points out that C. G. Jung talked about how when something is lacking in a culture, the compensation often arises through artists and the arts. This idea drives her personally, and other artists seem to recognize something similar: They often can't identify why they started painting but feel they are, in some way, called to do it. For photographers and writers, it seems to be the same. These activities give depth to the understanding of what's happening in a way that traditional conservation communication can't always get at, transcending duality in some ways. All this points to art as a possible communication tool in the conservation movement: it presents something people can resonate with in a consistent way.
I like the idea that art (whether visual images, poetry, or something else) can bring in new ways of knowing and understanding. I ask Susan if she is familiar with the work of Jungian analyst, Jerome Bernstein, Living in the Borderland, where Bernstein contends that nature is reaching to us to help pull us back from the brink of extinction[2]. She notes how profoundly this book has affected her and that many artists themselves may be "Borderlanders." They are often on the fringes of our culture, and can be even more receptive and sensitive to information that you may not be as connected to if you are "in the fray."
Biologists are also storytellers for wolves, Susan explains. Scientists have traditionally spent time in the back country following wolves and learning about them. There's a book she recommends, Wild Wolves We Have Known[3] , which is primarily biologists telling stories of wolves they have followed in the wild. Many of the accounts are both sensitive and nuanced, and many of these scientists have, perhaps surprisingly, turned to the arts to express what they are intuitively already sensing, even if the scientific methodology they need to use in their "day job" may not allow them to express. Bringing science and the arts together can never go wrong as a bridge to greater knowing, Susan proffers.
Other fields or movements Susan has turned to for inspiration: conservation, animal studies, and also community psychology and ecopsychology approach which she gets in the Community Psychology, Liberation Psychology, and Ecopsychology Specialization at Pacifica with its focus on activism and "being out in the world." Bringing that aspect into phenomenology, animal studies, or conservation has really enriched them in the way she looks at academic work. She references some great art movements as well, such as the "Dark Mountain" project and others where artists and writers are doing some very moving work that's really connected to psyche. She has found many of the scientists with whom she has spoken to be very open to psychology, arts, and social sciences, and has heard several note that they welcome interest from other fields, because conservation is, after all, a human endeavor. She has also heard that Yellowstone is bringing in some psychologists in to help with some of the park programs in order to better link humans with the conservation work to help bridge the gap.
One of the most beautiful projects Susan has come across in her research is the Yellowstone to Yukon Wildlife Corridor[4], which aims to protect a very large tract of land extending from Yellowstone all the way to the Yukon in order to make large enough areas for wildlife to safely move through the territory during roaming and migration.
In closing, Susan reflects on the Pacifica Community Psychology, Liberation Psychology, and Ecopsychology Specialization (CLE) of which she is a part of. Community Psychology is about bringing psychologists into the field and changing the way psychologists are perceived about having answers and driving change, she suggests. A community psychologist is responsible for going into a community and understanding what people want. It's really about facilitating and disappearing into the work. Liberation psychology has been rooted in the social justice movements that came out of Central and South America. It has a similar ethos to Community psychology in driving the change the community wants to see. It's about social justice movements taking root and helping communities find their voice. Ecopsychology is about the significance of our relationship with the more-than-human world and all the other life forms on the planet. Bringing each of those together under the depth umbrella is really dynamic. Doing fieldwork and research in the C.L.E. specialization is how people really "get" just how synergistic and connected these various aspects are.
Susan, who reveals she is really interested in human-wildlife co-existence right now, also loves to teach and build ecopsychology courses. She sees great future potential social scientists, especially those with ecopsychology and community psychology backgrounds. Once her dissertation is done, who knows where she might end up. Maybe she will dream about it, or perhaps the wolves will lead the way?
[1] Yellowstone Staff Profiles—Rick McIntyre: http://www.ypf.org/site/News2?page=NewsArticle&id=5137
[2] See Bernstein, Jerome. 2015. The Evolution of Consciousness and the Challenge of Healing Trauma. New York, NY: Routledge
[3] See Thiel, Richard P. 2013. Wild Wolves We Have Known: Stories of Wolf Biologists' Favorite Wolves. Ely, Minnesota: International Wolf Center
[4]Check out the Yellowstone to Yukon website at www.Y2Y.net
Listen to the full audio interview with Susan Grelock, Ph.D. here (approx.28 mins):
Learn more about wolf conservation at www.wolflostandfound.org and www.alphabestiary.com
Find out more about the CLE program at Pacifica: http://www.pacifica.edu/degree-programs/ma-phd-community-psychology-liberation-psychology-ecopsychology
---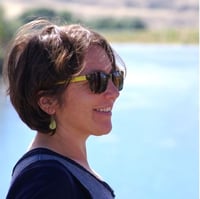 Susan Grelock is currently completing dissertation research examining how the arts can support conservation. Her research is focused on wolf conservation in the US portion of the Yellowstone to Yukon wildlife corridor and incorporates digital storytelling and her own arts-based inquiry. Susan has an MA in Depth Psychology from Pacifica Graduate Institute and over a decade of professional experience in marketing and communications for values-based brands. She loves to find herself outside, crossing paths with other species. You can connect with Susan on LinkedIn.

Bonnie Bright, Ph.D., is a graduate of Pacifica's Depth Psychology program, and the founder of Depth Psychology Alliance, a free online community for everyone interested in depth psychologies. She also founded DepthList.com, a free-to-search database of Jungian and depth psychology-oriented practitioners, and she is the creator and executive editor of Depth Insights, a semi-annual scholarly journal. Bonnie regularly produces audio and video interviews on depth psychological topics. She has completed 2-year certifications in Archetypal Pattern Analysis via the Assisi Institute and in Technologies of the Sacred with West African elder Malidoma Somé, and she has trained extensively in Holotropic Breathwork™ and the Enneagram.