A guest post by Bonnie Bright, Ph.D.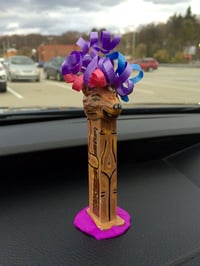 Aaron Mason, M.A., is a freelance medical writer with an infectious laugh, whose love of depth psychology led him to make sweeping changes in his life since deciding to earn his Master's degree in the Engaged Humanities Program at Pacifica Graduate Institute. On his desk in his West Hollywood apartment sits a Pez dispenser gifted to him by a close friend. The figure is a coyote, and Aaron has constructed a wig for it using multi-colored ribbons, and grounded its feet in magenta clay. He attached the coyote to his dashboard when he drove across the country from Jersey City in a dramatic move to the west coast. Aaron has dubbed this icon "Coyote Drag Queen," a name that takes on layers of meaning when one has a chance to hear Aaron's personal story.
As a child, Aaron remembers his fascination at watching an uncle performing in drag with a dance company on television. There was something interesting about the way his uncle performed drag, insists Mason. It was "something playful, subversive, and fun"—almost as if he were "getting away with something naughty." Now in hindsight, as an openly gay man, Mason believes that the experience impacted him profoundly, but it wasn't until he began studying archetypes and the patterns of Jung's unconscious via depth psychology that he recognized his uncle was embodying the archetype of the Trickster.
While at Pacifica, research led Mason to the work of Will Roscoe[1], who writes about Native American "two-spirits"—a term used to describe "non-binary gender roles among Native American tribes." Roscoe's writings also introduced Aaron to research on the "Galli"[2] cult: ancient groups of men who worshiped the Great Mother Earth Goddess, Cybele. Some Galli ritually castrated themselves in ecstatic celebration, and dressed in extravagant costumes of women's clothing, jewelry and makeup.
While Mason's studies primarily focused on Jungian psychology, Freud's theories emphasized one's relationship with the mother, Mason notes, which also played a role in his research. An outdated notion (especially in psychology) is that an overbearing mother could lead to a young man becoming gay. While Mason admits his relationship with his own mother is complicated, his inquiry into the topic reveals that relationships with the feminine are not only about the mother, but also with the Earth, and ultimately, the Goddess. A practitioner of "earthing"—an increasingly popular practice that focuses on reconnecting modern humans with earth—he tries to walk barefoot on the earth or dirt as often as he can.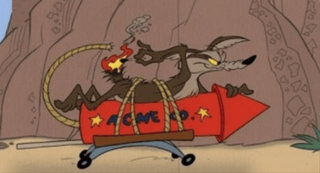 All these elements emerged in Mason's research for his Master's degree: the Trickster, the Drag Queen, his relationship with his mother, and his connection with the Earth. As I listened to Mason relay this plethora of elements that have been working on him for most of his life, I wondered how he first began to notice or utilize language and depth psychological concepts he learned to organize these ideas and experiences. Aaron recalls that it started early on in his education at Pacifica. In a course on depth psychology and technology, he was introduced to the book, Trickster Makes This World by Lewis Hyde, which allowed him to be able to see the figure of the coyote as a "wise fool," for example. The concept of Trickster as an archetype, an ancient and pervasive concept, intrigued him. Another course on Ecopsychology, taught by Susan Rowland, familiarized him with complexity theory and the idea that all life on earth can be viewed as complex adaptive systems. These kinds of systems lead to "emergence," which have elements of mystery and unpredictability.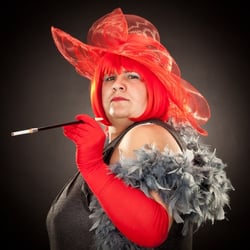 Armed with these kinds of ideas to provide context and understanding, Mason realized that drag is a "trickster type of process," that it relies on the trickster energy. In some Native American tales, for example, Coyote would dress like a woman to get what he wanted. In other tales, he would do other outlandish things such as removing his own genitals, getting caught in traps, or enacting outlandish or bawdy schemes.
After studying sexuality in Amsterdam for a month, Mason also began to integrate his growing understanding with "social construction," the idea that we construct our own identities, including gender and sexual orientation. Social construction opposes the concept of archetypes since archetypes are more essentialist, Mason laughs, acknowledging that he must be a Trickster, too, because he often sees strength on both sides of the binary.
On that note, Mason told me about a documentary film he discovered called "Two Spirits,"[4] in which a Navajo man, Wesley Thomas (who identifies as a two-spirit himself), relates a Navajo origin myth about four genders. For Mason, this idea made more sense than the binary male/female gender categorization commonly used in modern western societies. Instead of "black and white thinking" where one thing is pitted against the other, when the binary is enlarged to four, an individual might identify as a feminine female, a masculine male, a feminine male, or a masculine female.
Aaron recognized that this concept might also be symbolized by a quaternal mandala, which has a place in Jungian psychology as a sacred circle, encompassing a whole with four equally contributing parts. It also offers the opportunity for the feminine to enter into the Trinity, and for us to view the feminine through two pairs of two binary figures (potentially reunited): Mary mother of Jesus paired with Mary Magdalene and Eve paired with Lilith (the temptress), Aaron suggests. I remember being captivated by research from Jungians Anne Baring and Jules Cashford who trace the origins of various goddesses in mythology back to an original Great Mother in their book, The Myth of the Goddess.
Throughout my conversation with Aaron, I repeatedly think about Native American dancers who play the role of the Trickster, showing up in traditional ceremonies to create disarray with mischief, agitation, and general disruption. This type of activity can put us in a state of upset, dismantling our fixed mental constructs so that we become so bemused, we end up being more receptive, allowing something to open up within us so that new information can come in. This relates to the idea of emergence Aaron mentioned earlier in the conversation; it engenders creativity and the emergence of something new.
Among other topics in our discussion, Mason mentions diva worship and gay Jungians who have attempted to re-invent the Jungian concepts of anima and animus. The Jungian community could use a little more queerness, Mason proposes: It might bring Jung even further into the modern age. In his own self-acknowledged role of Trickster, Mason often chooses to initiate conversations about sex, gender roles, and other topics he and I had touched upon: homosexuality, drag, diva worship, and other topics that have not necessarily been at the forefront of our culture. He's happy to be the person that's "willing to talk about it." By not choosing to discuss certain topics, we give them more shadow energy. We need to allow the apple cart to be upset at times, I also concur, so that new pathways and venues can be made in our brains so something new can arise. It allows for the kind of emergence Aaron noted earlier, which leads to greater creativity.
Regarding creativity, Aaron has been painting for the last 15 years in his preferred style of abstract expressionism, a topic he addressed last year in an article for Pacifica Post[5]. He has long been inspired by the work of Van Gogh and Jackson Pollack, whose style was to throw paint onto canvas. In the Engaged Humanities program at Pacifica, he notes, students are encouraged to be as creative as possible and some of his projects there were to write (in an academically rigorous style) about his art. Mason argues that Pollack's painting style may be viewed as both masculine (in Jungian terms) and cathartic. On the other hand, the feminine showed up in a surprising way while taking a class at Pacifica on active imagination and Jung's Red Book. After having a dream about Liza Minelli, Mason began doing active imagination with the Liza Minelli figure, ultimately making the connection that this was the Goddess showing up in his life. As he continued to work with her (and let her work on him, he laughs), the process resulted in some surprising and interesting fodder for his graduate work at Pacifica.
In Mason's experience, the Engaged Humanities program at Pacifica combines highly creative and flexible opportunities with academic rigor. Not only does it create a safe space in both online interactions and in the on-campus residential sessions, the campus provides a beautiful setting removed from urban areas, inviting opportunities for contemplation and reflection. One significant way in which the program succeeded for him is that his classmates became true friends. Each seems to be on a quest in some way, either personally or professionally, and there were not only several working artists and teachers in his cohort; their ages ranged from those in their 20's to a man in who was 82. The hybrid program offers both structure and flexibility, he believes, and it is also extremely collaborative.
Students are encouraged to bring themselves into the process, to apply what they're learning to their own lives, so they are constantly working on themselves—a task that is not necessarily easy or perfect. But there is another aspect of the Trickster, Aaron submits. While the Trickster archetype can cause trouble or introduce the shadow into the process, it can also show up as the liminal messenger god or "psychopomp"—a figure that escorts souls across thresholds, he posits.
Mason, who studied Greek philosophy as an undergrad, points to Plato's "Allegory of the Cave," in which souls chained to the wall in the cave can only experience the world as the shadows they see on the wall. This story is a metaphor for what we think is real, he points out. Some souls escape the cave but go back to help others escape exemplifying the psychopomp, which in Buddhism, this is called the "bodhisattva": a "soul that recognizes suffering in others and tries to do something about it to help." This aspect of Trickster is tempered by the feminine, such as the calming of the moon goddess, or the experience of walking on the earth.
It's something of a calling to go to a place like Pacifica, I agree. You must be willing to set foot on the path of self-discovery—and no one escapes unscathed. This also relates back to the Trickster, because the Trickster is an initiator, and we each have to be willing to enter into our own process of initiation. From what I've learned, Aaron Mason has responded to the call, grounding his own journey through the power of depth psychology.
Listen to the full audio interview with Aaron Mason, M.A. here (approx. 35 mins):
Learn more about the Engaged Humanities & the Creative Life M.A. program at Pacifica
[1] For additional info on "two-spirits", see http://www.willsworld.org/twospiritq-a.html or the book, "Changing Ones" (St. Martin's Press) by Will Roscoe
[2] See Priests of the Goddess: Gender Transgression in Ancient Religion by Will Roscoe; bibliographic info at http://www.academicroom.com/article/priests-goddess-gender-transgression-ancient-religion
[3] See The Ecocritical Psyche: Literature, Evolutionary Complexity and Jung by Susan Rowland (Routledge, 2011)
[4] Learn about the film at http://twospirits.org
[5] Read "All Kinds of Classrooms" by Aaron Mason at the PacificaPost
---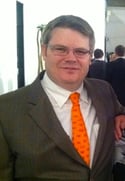 Born and raised in Colorado, Aaron Mason has lived on both coasts of the United States. Currently he calls West Hollywood, California his home. One of the factors in his decision to move west from Jersey City, NJ was his graduate studies at Pacifica Graduate Institute near Santa Barbara, where he earned an M.A. in Engaged Humanities and Depth Psychology. Aaron works as a freelance medical writer and plans to start leading workshops for other writers, using active imagination as a means to free people from writer's block.

Bonnie Bright, Ph.D., is a graduate of Pacifica's Depth Psychology program, and the founder of Depth Psychology Alliance, a free online community for everyone interested in depth psychologies. She also founded DepthList.com, a free-to-search database of Jungian and depth psychology-oriented practitioners, and she is the creator and executive editor of Depth Insights, a semi-annual scholarly journal. Bonnie regularly produces audio and video interviews on depth psychological topics. She has completed 2-year certifications in Archetypal Pattern Analysis via the Assisi Institute and in Technologies of the Sacred with West African elder Malidoma Somé, and she has trained extensively in Holotropic Breathwork™ and the Enneagram.