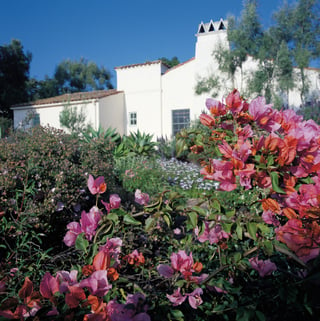 Thomas Fire update from Pacifica Graduate Institute
Tuesday, December 19, 2017 at 9:40 a.m.
Dear Pacifica Students,
Heartfelt greetings to you from Pacifica Graduate Institute. We are very grateful for your many expressions of prayers and caring. Throughout the wildfires, both of the Pacifica campuses have remained safe and fully intact.
We are looking forward to holding classes as scheduled beginning January on both Pacifica campuses. As usual, your academic program staff or faculty will be in touch with you prior to the first session of this new year.
The Pacifica executive management team has been meeting daily from the onset of the evacuations. Last week a larger group of Pacifica supervisors joined our meetings at a temporary campus location at UCSB. Please check the Pacifica website and social media for regular updates.
In the face of mandatory evacuations we chose to pull our information technology servers to preserve important data, which disrupted our staff and faculty Pacifica.edu emails, student management system (financial aid, student accounts, and registrar), telephone network and My.Pacifica Self-Service. The servers are anticipated to be up in the next day or two, and full communications restored. If you had not previously registered for Winter Quarter, you will soon be able to do so.
The information technology systems that remained consistently running included D2L, the Pacifica website, library access, student email, and Guest Services' registrations for students and retreat participants.
We look forward to being together with you soon. There will be stories to tell!
Warm wishes, and blessings to you this holiday season,
Joe Cambray, Ph.D.,
President, Pacifica Graduate Institute