A guest post by Bonnie Bright, Ph.D.
One of the benefits of depth psychological traditions is that they can be applied to understanding what it means to be a self or soul in this world, and to think about others who have led the way. "We stand on the shoulders of so many giants," insists William James Jones, who completed his dissertation research on the process of self-actualization to receive his Ph.D. in the Clinical Psychology program at Pacifica last year.
In the process, Jones realized he was interested in self-actualization long before he knew the term for it. As a young boy from the streets of Chicago who didn't really have his father growing up, he looked up to some of the strong figures in his community—including his mother, teachers, coaches, pastors, and priests—for inspiration. He was keenly interested in what it means to be a man with excellence—to really lead the life he is capable of, he realized. That desire sparked his curiosity about who exhibits the kind of traits he aspired to, prompting him to ask, "Who am I at the deepest levels, and what's my purpose in life? What's the meaning of all this?"
After studying a wide variety of individuals who have contributed to the philosophical thinking of depth and clinical psychologies, Jones discovered Maslow's theory of self-actualization, which seemed to best describe what he had been looking for for most of his life. It also best described the qualities of certain people who inspired and moved him, including Barack Obama, Colin Powell, Condoleezza Rice, Oprah, and others.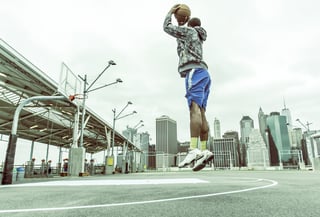 Jones recalls how, as a kid growing up in Chicago, basketball legend Michael Jordan was a tremendous symbol for the passion and the excitement of the city. Jordan was consistently excellent, Jones remembers, seeming to lose himself in the game to a point where his performance was almost magical. But, after a Bulls game, when most of the rest of the team was out celebrating, Jordan was always back in the gym or practicing shots at the court. "What drives a man like that who is already considered the best, yet who still practices as if he's at the beginning of his career?" Jones wondered. That particular pursuit of excellence is self-actualization, which Jones defines as "doing that one thing that one does well to the fullness of one's ability, and doing it consistently."
When Jones first applied to Pacifica, he knew depth psychology offered a means of looking at both conscious and unconscious processes, and that the work of C. G. Jung provided a language to help describe the mysterious but undeniable experiences of the self. However, he quickly realized that an integrative depth psychological perspective was highly rewarding as a process of self-discovery; in understanding who he is in the world, in his community as an Angelino, as a Californian, as an American, and as an African American.
The work of C. G. Jung helped explain the power of symbolism in a way that resonated with Jones, as did that of Abraham Maslow, whose theory appeared to capture a "meta motivation" in Michael Jordan. It was seemingly something deep and intrinsic to who Jordan was as a person—a longing to feel, experience, and execute the fullness of one's potential.
Jones wondered what it was that kindled one's curiosity to fulfill their potential. Then, he began to be more deeply interested in three particular historical African American men, Booker T. Washington, Fredrick Douglass, and W. E. B. Du Bois. While their names were familiar from his school days, he began to wonder with renewed interest why each of those three men were so influential. What did they do that allowed them to persevere, thrive, and to perform at such a high level of excellence despite the many risks for themselves and their families? he asked.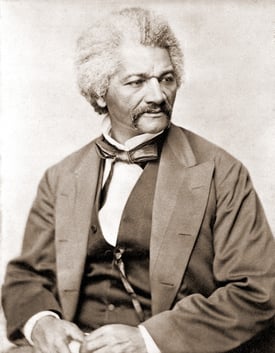 Frederick Douglass (est. 1818-1895) was born into a life of slavery on an unknown date. He never knew who his father was, though eventually suspected it was his slave master. In his soul, Jones relates, Douglass knew this wasn't the life that was meant for him. Ultimately he fought for ending slavery and gaining equal rights for not only African Americans, a massive undertaking, but also for women's rights and for temperance, and peace, and land reform, and free public education, and the abolition of capital punishment. Arguably, Douglass eventually became the most influential African American of the 19th century, even being named in 1872 as the first African American selected for nomination for Vice President of the United States (as the running mate of Victoria Woodhull, a presidential nominee who was a woman).
In current day, we take a lot for granted, Jones believes, including our freedom, access to education, and even, for many of us, having a sense of identity by knowing who our fathers are. Somehow Douglass managed to transcend all these limitations to become who he truly was as a man and a human being.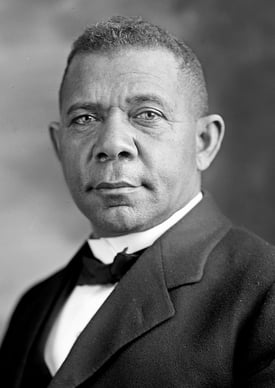 Booker T. Washington (1856-1915), widely considered part of the last generation of Black American leaders that were born into slavery, became one of the leading voices of the former slaves and their descendants. A true scholar, educator, and orator, he became an advisor to the presidents of the United States. He was the first leader of the Tuskegee Institute, called the New Normal School, a unique teacher's college in Alabama which was established to educate freed men. Washington was also an integrationist: He believed in working to do well the one thing that best serves us, declaring: "No race can prosper until it learns that there is as much dignity and a field, as in writing a poem.
At the time, working the fields, using one's hands, and building and constructing things was not only the way of a young America, it was also the kind of work that was available to people of color. Washington asked, "If this is the one thing that we're able to do, why not do it with excellence?" For a man who was constantly overcoming obstacles and dealing with life's twists and turns, Washington is also remembered for another statement that speaks to the process of self-actualization as Jones sees it, saying, "Success is to be measured not so much by the position that one has reached in life, as by the obstacles which he has overcome."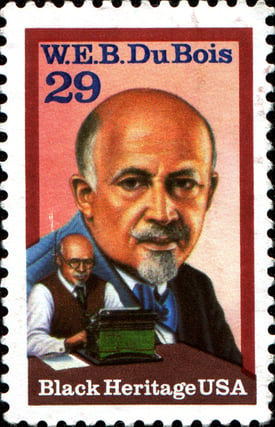 W. E. B. Du Bois (1868-1963) grew up without a father, who left his mother just two years after W. E. B. was born. Though he grew up in a relatively tolerant and integrated community, he lost his mother to a stroke when he was still a teenager. Nevertheless, he went on to became the first African-American to earn a doctorate at Harvard, where he was strongly influenced by his professor, William James, also notably considered one of the founding fathers of psychology. Du Bois was one of the co-founders of the National Association for the Advancement of Colored People (NAACP) in 1909, and he fought strongly against racism, insisting on full political rights and advanced education, and was a passionate activist for peace.[1]
In Jones' research on self-actualization and how it relates to African-Americans in contemporary culture, he looked at Maslow's work on peak experiences, which are key markers in the ongoing process of self-actualization. Interestingly, when Jones assessed the biographical lives of the three historical figures, he didn't find as many peak experiences as he thought he would. Instead, he uncovered many of what Maslow termed "nadir experiences," which refer to profound growth that comes through emotional pain, turmoil, or even tragedy. These kinds of experiences can create new perspectives, sometimes even creating significant shifts in attitudes, insight, or understanding. For example, after one of countless beatings from his plantation owner and slave drivers, Douglass decided that no matter how much he was beaten, it would not touch his soul. Somehow he knew that there was something in him that could not be touched by some kind of external pain.
Because all three men had a variety of nadir experiences, Jones eventually identified 15 common attributes that all three of the men shared, which led them in their process of self-actualization:
1. faith in one's capabilities
2. faith in a higher power, or in justice for humanity
3. feeling called to something
4. resilience
5. pursuit of knowledge
6. mission-driven
7. desire to change circumstances; and then the last few
8. a spirit of advocacy
9. a unifying agenda
10. belief in accountability
11. integrity despite risk of loss
12. a quest for excellence
13. service-minded
14. belief in social justice
15. fundamental belief in equality
As an example, Jones offers, the first attribute, "faith in one's capabilities," was common to all three men, and is different than merely having confidence. These men had to hope that something positive would come from an unknown situation that might result in injury, jail, or even death for them or for others that they cared about, he contends; yet they still took action despite those risks. They had to have faith that, whatever degree of capacity they had, they could withstand the many associated pressures and the threats, and see it through.
The final attribute, "fundamental belief in equality," pointed to a lack of self-centeredness, Jones points out. They wanted equality as much for women as they did for themselves, a profound and courageous mindset.
The third attribute was that they felt "called," Jones relates. How do you measure that? Called by whom or what? Booker T. Washington was quite religious, having faith in a Christian god, but W. E. B. De Bois wasn't necessarily a believer in any of the traditional religions—yet each of the men felt called in their own way. From a depth psychological perspective, Jones suggests, we might say they were connected with the totality of the self—the bigger Self, or soul. Somehow there was a push for realization of that who that self actually was, and the purpose of that self at that time.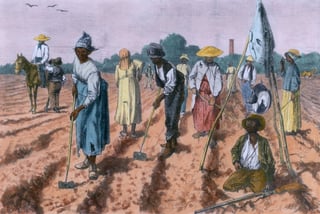 How can each of us today can actually tap into what that sense of calling is or tap into those 15 attributes in order to put ourselves further along that process of self-actualization, I wondered. A key process is paying attention, Jones maintains. Frederick Douglass, for instance, paid attention to both his internal world and external one. While he never had access to what life looked like outside of a plantation, he would notice the young child of the house being read to by his mother and he saw a change in that child take place by the words that were spoken by the mother; by the words that were written on a piece of paper. Douglass was unconventionally curious. He wanted to know what it was to be read to, or to read. And so he watched, and observed. He figured out a way to get educated when it was illegal to be educated at that time. Paying attention to that what moves you and inspires you; what pulls you toward a fuller sense of who you are and what you're capable of; and then following that path enough to get you to the next point in the journey is an important aspect of self-actualization.
Jones, who has an upcoming article to be published in the Journal of Humanistic Psychology this summer, insists on how important the process of self-actualization is for African-Americans today. His research suggests that, while it may sound like a strong claim, there is no excuse for the African-American today not to self-actualize, if only they are willing to make the choice. In the era in which they lived, Douglass, Washington, and Du Bois had so much more to risk by making the choice to do more; by finding a way out, and doing better, he suggests. There are ways in which individuals can come together as a family or a group and pool resources, so that even one person in a particular family or community can go to college. That one person can then come back and to lift up others in the community or to provide access to others who helped support them. We have men like these as examples, Jones reminds me, so if a young man looks around and sees despair, poverty, lack of access, and lack of equitable resources, Jones would tell him to go to a book; to study the life of Douglass, Washington, and Du Bois. They, especially the first two, came from absolutely nothing. Go deep and look at some of the contributions that have been made from people who chose to do more, who chose to find a way—or who just knew, like these three men knew—that there was more out there for them, that their purpose is bigger than just existing on the earth.
Hearing this, I know I'm inspired. Jones is going to make a tremendous impact of his own as a depth-oriented clinical psychologist who has focused on the power of self-actualization, and who is willing to share the fruits of his knowledge with others.
Listen to the full audio interview with William James Jones, Ph.D., here (approx. 35 mins):
Learn more about William's work www.WilliamJamesJones.com
Learn more about the Ph.D. in Clinical Psychology program at Pacifica
[1] Learn more about the life of W.E.B. Du Bois at https://en.wikipedia.org/wiki/W._E._B._Du_Bois
---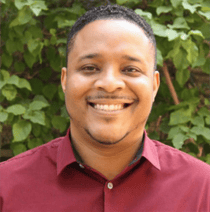 William James Jones graduated from Biola University in 2008, earning his Bachelor's degree in psychology. At Biola, he served as his cohort's Student Council Membership Leader. While earning his master's degree in clinical psychology from Pepperdine University he also worked as a graduate assistant for MFT Clinical Training Coordinator Alice Richardson and Teaching Assistant for Dr. Judith Sherwin. William served as Psi Chi International Honor Society Chapter Vice President from 2009-2010 and President from 2010-2011. William guest lectured at Pepperdine University and co-presented original research at the Sixth Annual Conference for the Society of Humanistic Psychology. His original research on poverty and resilience was presented at the Annual Convention of the American Psychological Association, in Honolulu, HI. William completed his PhD in Clinical Psychology from Pacifica in November, 2016 and his dissertation research focused on the process of self-actualization among Frederick Douglass, W.E.B. Du Bois and Booker T. Washington. William served as an Executive Board Member for Pacifica's Alumni Association and was a recent American Psychological Association Division 39 Multicultural Concerns Scholar Award winner. He currently works as a postdoctoral fellow at Occidental College, and is presently writing an article on self-actualization within African American culture for the Journal of Humanistic Psychology.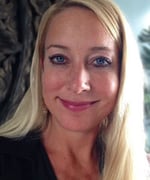 Bonnie Bright, Ph.D., is a graduate of Pacifica's Depth Psychology program, and the founder of Depth Psychology Alliance, a free online community for everyone interested in depth psychologies. She also founded DepthList.com, a free-to-search database of Jungian and depth psychology-oriented practitioners, and she is the creator and executive editor of Depth Insights, a semi-annual scholarly journal. Bonnie regularly produces audio and video interviews on depth psychological topics. She has completed 2-year certifications in Archetypal Pattern Analysis via the Assisi Institute and in Technologies of the Sacred with West African elder Malidoma Somé, and she has trained extensively in Holotropic Breathwork™ and the Enneagram.