Today is Pacifica's Thesis Presentation Day for the M.A. Counseling Psychology Program. Surrounded by faculty, fellow cohort members, family, and friends, students will present their thesis, sharing their scholastic findings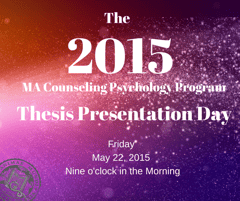 and passion about issues they care deeply about. We congratulate our class of 2015 on their tremendous achievements. Below is a summary of the thesis process followed by the titles of these exquisite presentations.
About the M.A. in Counseling Psychology Thesis Process
Research and writing are two ways among many of finding meaning within and conferring meaning on experience. These fundamentally human activities can be deeply imaginal and intuitive. In research and writing, we seek to uncover the deep truth of the human condition.
Within the context of the Institute's guiding vision, students are encouraged to select a research question they wish to explore in depth through the vehicle of the thesis. Towards this end, the student is asked to:
pursue an area of individual interest relevant to marriage and family therapy, professional clinical counseling, and depth psychology (e.g., therapeutic issues, psychological motifs, clinical procedures);
ground this particular area of interest in a conceptual framework (e.g., background information, findings, concluding evaluation);
demonstrate competency researching a specific area and expressing ideas with clarity and precision.
The Counseling Psychology thesis is the culminating expression of students' graduate course of studies and provides a forum for contributing back into the community the knowledge that students have gained during their educational experience.
---
Juliette Riancho
Re-¬‐Visioning Wholeness: A Psychologically Polytheistic Experience of Falling Apart
William Morgan
Resilience in Physician Lives
Kyrie Sue Carpenter
PLAYful Aging: Embracing the Inevitable
Carl G. Chavez
A Journey Through Psyche's Sexual Energy
Dominic King
African American Students' Mental Health and Academic Performance at Predominately White Institutions of Higher Learning
Jordan Laband
Rebuilding and Empowering Psyche After Trauma: A Survivor's Journey Toward Healing, Self-¬‐Expression, and Artistic Creation
Adam Cohen
Aerobic Green Exercise as a Transcendent Experience: Psychotherapeutic Implications for Working With the Unconscious
Siobhan McDevitt
No Man's Land: Artemis and the Illumination of Psychic Wilderness
Laura Westmoreland
Obesity: The Good, the Bad, and the Ugly
Fabrice Paracuellos
The Constitution of Culture: A Complexity and Psychoanalytic Approach
Therese Brooks
A Mother/Daughter Workshop: An Initiation Into the Conscious Feminine
Jacquelyn Toth
Longing for the Gypsy: Traversing the Margins of Female Adolescence and Family Trauma
Susan Kinkead
On Becoming a Crone
Rhonda Ferguson
Successful Aging: Defined Through a Depth Perspective
Solmaz Yasamin Shenasi
The Roots of Music Therapy: Healing the Wounds of the Psyche
Christopher Pearson
Androgynous Individuation and Two-¬‐Spirit-¬‐uality
Colleen Koch
From Infertility to Motherhood: Psychological Support for a Heroine's Journey
Kim Meijer
Let the Gods Dance: Transformation Through Haitian Dance
Lisa Sloan Strom
From Head to Tale: Therapy Dog Training as Transformative Journey
Anne Wullschlager
Re-¬‐Membering the Flesh and the Feminine: Illness, Coinherence, and the Creative Imperative
Ian Spencer
Work, War, and Rape: Is a Comprehensive Trauma Diagnosis Possible in a Free-¬‐Market System?
Colleen Conroy
The Instinct of Imagination: An Inquiry Into the Psychoid
Dinko Zidarich
Bringing the Money Out of the Shadows: Money and Therapy
Viera Kair
Transgenerational Attachment Wounds: The Healing of Ambiguous Loss
Anne Murphy
Symbol Formation: The Meaning Making Function of the Psyche
Tara Atherley
Classroom Educator Wellness: A Prerequisite for Psychotherapeutic Agency
Susan Batistick
Reclaiming One's Gold: Imagining the Inner Child Through the Art of Therapeutic Fairy Tale Writing
Jennifer Novis
Illness and the Elixir of Life: The Chronically Ill Child's Transformation Through the Alchemical Process
Tanya Dantus
Women Healing Through Expressive Arts: Redirecting the Feminine Qualities of Caring and Nurturing Toward Self
Andrea Haffner
In-¬‐Sight: An Experiential Exploration of Image and Psychology
Cynthia Marie Ganesh
Delicious Malice: Envy and Gossip in Relational Aggression
Priscilla Newton
Sourcing Image Formation in a Depth Psychological Approach to Posttraumatic Stress Disorder
Adrian Gugiu
Acculturation: An Alchemical Exploration of Transitional Spaces
Andrew Erickson
Nostalgia and Kohut: Toward an Understanding of This Bittersweet Phenomenon
Dana Kline
Contextualizing Transformation: Initiation Dreams of Depth Psychotherapists-¬‐in-¬‐Training
Dawn Berry
Finding the Fire Within: Military Wives and the Complex Journey of Individuation
Taryn Holvick-¬‐Norton
Becoming Whole: The Process of Individuation for Women and Their Bodies
Lynn Flewelling
Dancing With the Trickster: Reframing the Negative Animus in a Woman's Dream
Sarah Bergeson
Treasures From the Earth: Food as Nourishment for Body and Soul
---
Research, Writing and the Creative Imagination
Research and writing need not be divided into the artificial categories of academic and creative. The academic and creative can be seen as two impulses of the same activity: a search to discover what is truly revelatory about the subject of your focus and expression. Imagining and perceiving are both essential activities in research and written expression and seek an integral relational language at home in a world of meaning. Research and the act of writing allow you to go beyond what is given or simply perceived in detail; you hope to glimpse what is promised, what is anticipated in the givenness of experience, grasping its deeper psychological ground. It is important to remember that just as you are in a process of a deepening formation, what you intuit as you research and write is similarly provisional and tentative—true for the moment but always open to being reshaped as your larger understanding shifts and grows.
The tradition of depth psychology is less interested in the split between academic and creative expression and more attentive to comprehending a coniunctio between them: a marriage between the senses, ideas, insights, and images that, when summoned together, offer readers a place they have not traveled to before, and an insight for the researcher/writer that you can call your own. Research and the act of writing are ways to free the imagination to explore, to see relationships, to intuit possibilities, and to glean new and provocative forms inherent in the commonplace. These are uniquely creative acts that attempt to bring the voices of authority into a common cause with your own unique voice in order to discern what has not been articulated in just such a way before.
Pacifica Graduate Institute Core Values

Logos-The idea that academic excellence is central to what informs our curriculum, research, and scholarship—demonstrated by conscious reflective regard for new knowledge resting securely on the traditions of the past that inform the development of the whole person (intellect, dream, intuition, symptoms, feeling, imagination and other ways of knowing) in relation to the larger social world.
Eros-The importance of open communication, respectful relationship, care, and a heartfelt regard for a diverse community, which includes a love for learning as a noble goal of the human spirit.
Consciousness-The awareness of Pacifica as a "psychological community" with a connection to the deep psyche—mindful attention is given to personal and community introspection, the conscious tending of the shadow of consciousness, and a respect for solar thinking (reason) and lunar reflection (dream and imagination).
Integrity-The necessity for a just, psyche-­‐centered attitude rooted in the "wisdom traditions," and committed to cultivating an honest and caring presence among ourselves, our students, and the world around us.
Service-To ourselves as unique human beings, to others within the Pacifica community as well as to those we engage in the world through our example, talks, lectures, workshops, writing, teaching; the capacity to see through cultural forms; the art of hosting the incarnate and the invisible; and our ongoing service to our fields of Depth Psychology, Mythological Studies, and the Humanities.
Stewardship-Care of the world soul as expressed in Pacifica's motto, animae mundi colendae gratia, becoming sustainable at all levels—from our way of being actively present in imaginal inquiry to our presence in the larger earth community, from work load to land use, from our way of conducting business to our model of doing business.