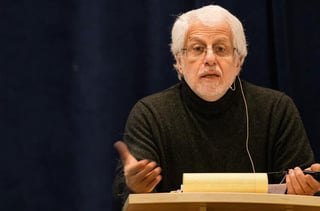 Pacifica Graduate Institute Clinical Psychology Program Faculty Member Receives Psychoanalytic Center of California (PCC)
Dr. Avedis Panajian, who is Core Faculty in Pacifica's Clinical Psychology Program has been awarded the Psychoanalytic Center of California Certificate of Recognition for his significant contributions to the founding and work of the PCC. Panajian is one of the primary founders of this internationally approved advanced analytic training for psychiatrists, psychologists, and other mental health professionals.
Dr. Panajian spoke of the vision and efforts that have established PCC as one of the most respected institutes in the world, training candidates in the understanding and the treatment of primitive mental states:
"I was actively involved as one of the original founders of Psychoanalytic Center of California. In the early 1980's, a small group of M.D. psychoanalysts and Ph.D. psychologists decided to create an institute that would provide analytic training to, not only M.D. professionals, but to other mental health clinicians. All the M.D. analysts had been analyzed and supervised by Wilfred Bion and highly influenced by the British school of Melanie Klein. I was one of the Ph.D. psychologists doing the groundwork of serving on the Board of Directors, teaching clinical supervision and the work of Wilfred Bion, developing course curriculum, and collaborating for countless hours to realize a vision of training devoted to patients who were psychotic, with borderline and narcissistic personality disorders. After countless hours and years, we succeeded in establishing an analytic institute approved by the International Psychoanalytic Association. In 1986, the PCC granted its first certificate in psychoanalysis. It is now one of the most respected institutes in the world."
You can also learn more about the International Psycholanalytic Association by clicking here.
---
Avedis Panajian is a Fellow of the International Psychoanalytical Association, a certified psychoanalyst, researcher, senior lecturer, and licensed psychologist in California. He has served as a board member of the Western Regional Board for Diplomates in Clinical Psychology of the American Board of Professional Psychology. He has chaired Diplomate examinations and served as a licensure examiner for many years for the California Board of Psychology. He has also received the Distinguished Educator Award from the California Board of Psychology. Dr. Panajian is also a supervising and training Analyst at the Psychoanalytic Center of California, Institute of Contemporary Psychoanalysis and at the New Port Psychoanalytic Institute. Dr.Panajian's research interests include infantile development, trauma, and the treatment of severe emotional disorders.