My Pacifica Experience. A guest post by Mythological Studies student Carol Myers.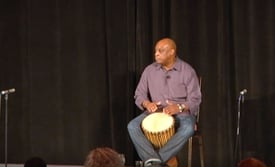 Pacifica reached out and hooked me initially, with a presentation by Pacifica Mythological Studies graduate Kwame Scruggs. Last fall, I heard him speak briefly about his work with young men in Akron, Ohio, using myth and drumming. I liked his attitude and the way his head and heart worked, and I thought Pacifica and the Mythological Studies Program had something to do with that. In no time at all, I started the application process. I also attended the Pacifica Experience day in January of 2017. In spite of temperatures in the 30's and relentless rain, there was a warmth and energy I liked. In particular, I recall the panel of students representing several programs offered at Pacifica. One of the students representing the Mythological Studies Program was Leonora Francesca ; I liked the way she spoke and I liked the way she thought.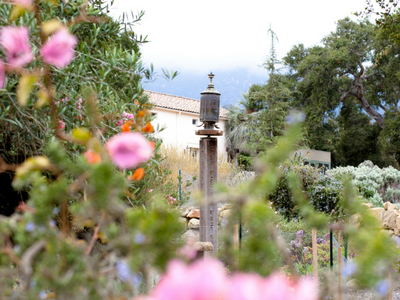 And I figured Pacifica and the Mythological Studies Program had something to do with that. I also met countless other students in several programs: administrators, teaching faculty, and staff who were marvelous! And I thought Pacifica had a lot to do with that! In addition, of course, I thoroughly explored the website, blog, videos, and catalog, all of which shined with energy, ideas, and creativity in action.
Quite simply, during the first residential session I felt like I had come home. Thanks to the Program Administrator, Meghan Sandoval and many others, it was all I had hoped for and more. The faculty are superb and my fellow students in the cohort bring a vast array of interests, talents, and experience to enrich classes even more.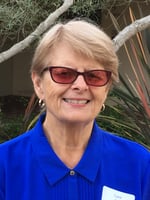 I was very contentedly enjoying my 12th year of retirement when Pacifica called to me. It matters not what the future holds; I'm going to have a great adventure on the way!
The last 20 years of my professional life I was a licensed psychologist in private practice. But like most folks who love learning, I've had several other careers and jobs including secretary, x-ray technologist, and educator.
My seeing eye guide dog Amigo, and I fly in from Dallas, Texas to attend class. I consider Pacifica to be a world-class teaching institute and I am thrilled to be a part of it.