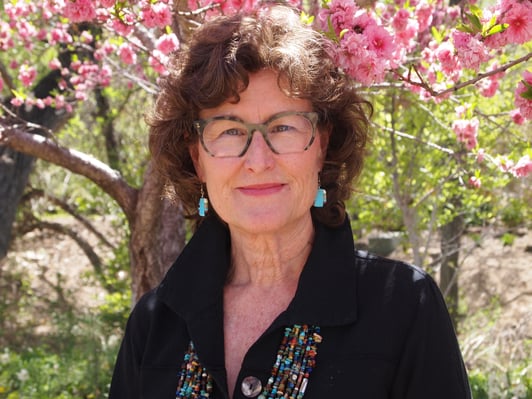 Mythologist, writer, and Pacifica alum Dr. Jaffa Frank will be presenting "Loving Medusa, Redeeming Athene: A Mythopoesis of Female Blood, Embodiment, and Sovereignty" to the Joseph Campbell Foundation Mythological RoundTable® Group of OPUS on Sunday, January 19th from 2:00-4:00 p.m. at Pacifica's Ladera Lane campus. This event is free and open to the public. For more info, visit opusarchives.org/events.
Devon Deimler, Ph.D.: Your Mythological RoundTable presentation will be based on your dissertation work for Pacifica, which you recently adapted into a book published by Mandorla. Can you share a bit about how you decided to work with Medusa and Athene to personify endometriosis? I know it's a subject that you yourself have embodied for many years.
Dr. Jaffa Frank: My work with the Gorgon Medusa emerged out of my intuitions, dreams, and endometriotic symptoms. I didn't look for her; she came to me as an archetypal face expressing my embodied experiences of many of the physical and psychological realities of endometriosis. For example, I sensed her presence in the way that the disease essentially turns the female reproductive organs into stone and in the nature of Medusa's blood, which like that of endometriosis is simultaneously destructive and creative. I felt the Gorgon's proximity in the psycho-social typing, misogynistic assumptions, and female rage that I encountered as a patient and when reading about the disease. My encounter with Athene was facilitated by the fact that she is inextricably linked with the Gorgon Medusa in myth and iconography. It's through Athene's repeated, sometimes puzzling interventions into Medusa's story that the Greek Gorgon is created. I didn't seek out Athene, but rather found myself, through the myths, at her altar in the very heart of the phallocracy—ancient Greek and modern American.
DD: You'll be speaking about how we might confront "embodied misogyny" and discover or restore sovereignty, all without forfeiting the potential value--or simple truth--of suffering. Without giving away too much of your presentation, how might we learn to recognize manifestations of embodied misogyny?
JF: To recognize manifestations of embodied misogyny, turn towards symptom with reverent curiosity ala James Hillman. Embodied misogyny is a psychoid phenomenon and so it partakes of physiology and psyche and challenges the constructs of mind-body dualism and linear causality. That's important because one of the ways that women with endometriosis and other menstrual complications have been subjugated is through pronouncements that "it's all in your head." At the heart of embodied misogyny is a distorted relationship between the archetypal feminine and masculine, and between body and ego. This distortion manifests as a split and polarized attitude of appetite or scorn towards the female body, temple of chthonic processes. The chthonic feminine turns demonic under the profanity of this irreverence, and her transformative powers petrify—psyches and bodies. What is called for is not confrontation with embodied misogyny, but rather an attitude of deep acceptance of what is and a process of relating to the goddess and giving the goddess her due. Where there is scorn or appetite bring reverence and humility.
DD: Do you have an example or two of how your understanding of Medusa or Athene transformed throughout the course of your work? Both of these goddesses--particularly Medusa--don't often seem to receive the depth or extent of nuanced reflection that they deserve.

JF: My understanding of these goddesses was profoundly transformed by reading their stories, researching how they've been comprehended by others, viewing their iconography, and imaginally interacting with them. The process was an amplification; an engagement with living archetypal energies which allowed each goddess to emerge with greater complexity and in rich paradox. Medusa deepened into her Gorgonian, chthonic roots and regained her lost wholeness, which unifies death with rebirth. Athene expanded from the iconic female defender of patriarchy into a trickster with enduring roots in the chthonic feminine sacred.
DD: You are currently teaching courses in the psychology of altruism, archetypes, and the evolution of consciousness at Southwestern College in Santa Fe. What does your psychology of altruism class entail?
JF: The altruism course is highly experiential and focused on a lived experience of altruistic behavior and sourcing. We identify and work with beliefs, habits, and relational patterns that sabotage sustainable compassion for self and others. The guiding question is "What does it mean to be of service in a helping relationship with those seeking support?" We recognize that altruism can easily become a project of the ego, burdened by self-neglect or even self-abuse. Through the action of service, students cultivate personal transformation and develop their capacities of mindfulness, forgiveness, compassion, and therapeutic intimacy. They work towards healthier boundaries, effective action with reduced attachment to outcome, and an expanded sense of self beyond ego and their future role as "therapist."
Dr. Jaffa Vernon Frank is an archetypal mythologist, licensed mental health counselor, writer, and a woman with over 40 years of experience living with endometriosis. She holds a Ph.D. in Mythological Studies and Depth Psychology from Pacifica Graduate Institute and an M.A. in Counseling with an emphasis in Grief, Loss, and Trauma Therapy from Southwestern College. Dr. Frank teaches courses in the psychology of altruism, archetypes, and the evolution of consciousness at Southwestern College in Santa Fe, New Mexico. Her book Eyes of the Gorgon: Endometriosis, Mythic Embodiment, and Freedom is available on Amazon. Learn more about Dr. Frank at www.jaffavfrankphd.weebly.com.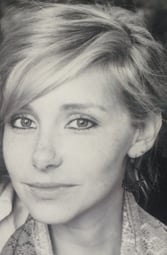 Devon Deimler, PhD, is Curatorial Assistant at OPUS Archives and Research Center, as well as Leader of the Joseph Campbell Foundation Mythological RoundTable® Group of OPUS. She earned her doctorate in Mythological Studies with an Emphasis in Depth Psychology from Pacifica Graduate Institute and has extensive experience in the fields of art and music. She is Scholar in Residence and curator of the Cinemyth Film Series at the Philosophical Research Society in Los Angeles and is currently teaching modern art history and studio art at American University Preparatory School.