Dear Pacifica Community,
I have had the privilege of sitting with many over these past days. Folks were talking from the heart and soul about the "State of the Union" in our country.
There were expressions of shock, despair, fear, and concern. Some asked, "What now?" Others, spoke of the clear and present danger they felt personally and/or for members of their families and friends. Sill others, felt the harsh reality of what they experience each day, under the the veil of silence, now being "out loud" for all to see, feel, experience.
I must tell you, a number of these conversations, both personal and in groups were deeply painful.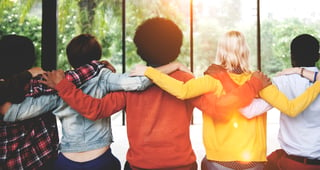 Also, true, is virtually every person expressed an appreciation to be in a community where we can hear each other, support one another, and tend to the wounds that are open. What was clear is that our reactions go beyond politics, beyond political parties, beyond the circumstances of these past days only.
I want to share a couple of outcomes with you:
1. On behalf of my office and the Institutional Management Committee (IMC), any person feeling threatened in a direct way by any "policy" "action" and/or "threat" -- know you have my personal and our entire management support. Let me or any member of IMC know and, we, with the resources of our Institution, will help in any way we can.
2. There is still a process of grief going on in our community. We grieve about freedoms, dignity, and respect lost. We will continue to make room for this in the days/weeks ahead.
3. And, too, there is a need for a renewed "call to action" -- this activism is part of our core values, it is in the DNA of Pacifica, it is at the heart of our origin story. Folks will begin meeting to hear into what is being asked of us now, from our depth/ community/ ecological/somatic/mythological /humanities perspective.
4. We will take action, with the intent of offering care for the world. The anima mundi asks this of us now. This action goes beyond political parties and affiliations.
A mentor writes:
"Hunker down, increase your support for those causes and people you love, listen to your dreams and manifest in the world the generative impulses you find there arising from a deeper ground."
In communitas,
Steve
Stephen Aizenstat, Ph.D.
Chancellor & Founding President
Pacifica Graduate Institute
---
We were made for these times by Clarissa Pinkolas Estes
On Grieving This Historic Moment by Tara E. Atherley
The Social and Political Life of Shame in the U.S. Presidential Election 2016 by Mary Watkins, Ph.D.
Introduction to Archetypal Activism by Craig Chalquist, PhD
My Fellow American's by Evans Lansing Smith
Further thoughts on the election… ~ Susan Rowland Ph.D., Chair of Engaged Humanities & the Creative Life
I Stand Up for All Pieces of Peace by Joyce Wycoff
The Election: Of Hate, Grief, and a New Story by Charles Einstein
20 Tips to Release Stress and Heal Trauma after this #&*^@ Election
Activism as an Antidote – New Energy for 5WCW The Million Women March • Jean Shinoda Bolen, MD
To and From the Soul's Hall by Francis Weller
The sun has set on the election, but tomorrow the sun will rise, and we will still be here – Julia Hamilton
The Heart of Change: An Essay by Michael Meade
Dr. Lauren Costine Addresses LGBT Election Blues