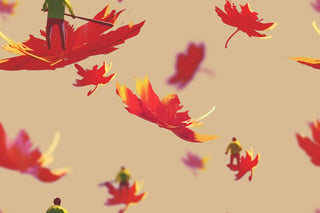 Stories from recent graduates of Pacifica's M.A. Engaged Humanities and the Creative Life Program
"Pacifica's M.A. Engaged Humanities and Creative Life Program has transformed my life in the best way, giving me a language to speak my truth, and a frame through which life and everything I do seems more meaningful and connected to everything else. The program trained me to live creatively in every single area of my life. I'm less fearful since I studied at Pacifica. I am more free since I completed the program. I am a wife and a mother, and I make a living as a screenwriter for the Hispanic audiences in the US. And I am a performer. Life is still the same life, but I process it in a richer way. I like and honor being a lot of things at the same time. I don't constrain myself to be only one thing, one role any more. This is all thanks to the Engaged Humanities and Creative Life Master's Program I did at Pacifica Graduate Institute."
Mariangelica Duque Wife, Mother, friend, Screenwriter, Mentor, Performer and more
---
"This program unleashed my talents as a creative writer and artist. At the beginning of the program, I was reticent—nervous having been at home so many years raising five kids. Carving out time for this program was a big step. My cohort was so diverse—by nationality, by age, by expertise. We joined together through our study of myth, psychology, dreamwork, and art and humanities. The program reaches deep and supports us to express our truth. I have felt so embraced by my cohort. We will be forever bonded. Pacifica offers a structure in which you delve into the topics most dear to you. Each of my paper topics offered me the opportunity to dive into an area of interest profoundly interesting to me. This led me to my current area of interest, which I am going to develop as a career
path. I did not know my direction at the beginning (which was part of my dismay) but the manner in which Pacifica's professors, classwork and cohort guided and supported me into deeper parts of my psyche and what was most important to me—was essential to me moving forward as an artist in the world."
Tracy Ferron, Artist
---
"The Engaged Humanities Program has given me a unique and exciting perspective on the humanities--that of depth psychology. I engage with texts, artwork, history, and philosophy on a deeper, more personal level than ever before. I'm confident I can teach students to do this too. This program has also exploded my creativity and brought me to a clearer knowledge of self. It put me in touch with the creative, passionate being that I am in a way I can't imagine any other program would. I can take that passion, creativity, and authenticity into my career as well as my relationships, my spiritual practices, and my community. I leave this program transformed and ready to embark on a creative life."
Khrystine D. Kelsey, humanities scholar
---
"I had a stimulating education in the practice of Depth Psychology, intellectual creativity, and humanities disciplines in the MA at Pacifica. I was a minority student as a conservative, religious, family woman. I highly valued the diverse perspectives. Both the interpersonal and academic experiences have strengthened my chaplain work, making me stronger and broader in multiple disciplines. I was given the opportunity to present papers at two international conferences: at Arizona State and at Yale Universities. These were highlight times where the intellectual and spiritual realms converged creating new insight and knowledge."
Natalie McCullough, Chaplain
---
"Pacifica's Engaged Humanities Program transformed many aspects of my life. Some aspects are intensely personal, furthering my spiritual journey and continue to unfold. Some of the practical aspects helped to move my career and work forward and out into the world. The process and content of the coursework inspired self-discovery, helping me to create a strong sense of personal security. New aspects of my work were brought into focus along with a renewed commitment to production and exploration. The practice of analyzing creativity developed a deeper comprehension of humanity's need for creative expression and a renewed sense of mission in my work. The structured format strengthened my ability to communicate clearly and effectively in academic and commercial realms. Perhaps the most fulfilling was that my cohort quickly became a family, a safe place for soulful exploration and a reminder that I was not alone in the world."
Karen Foglesong, Artist, Scholar, Teacher; Track X 2014
---
"I am a studio artist. Enrolling in the Humanities program at Pacifica, as a compliment to my career, is one of the most meaningful life choices I have made. This program is the scholarly version of art making! It is an intellectually rigorous, soul-stirring odyssey that is expanding my creative framework to include psychology, mythology, alchemy, and the endlessly beautiful realms related to what it is to be human. I am delving consciously into the mysterious world of the unconscious. Through the diversity of material (both literary and experiential), a multitude of meanings are unfolding as I come to deeper understandings of myself in relation to the world. The hybrid aspect allows me to generate ideas with colleagues—young and old—from a variety of professions and various countries. This is a stimulating adventure! Pacifica professors, brilliant in their respective fields, possess unique abilities to express complex knowledge in utterly engaging ways. At Pacifica I am learning that creativity is not just about making art—it is about crafting a vividly authentic, deeply meaningful life."
Margeaux Klein, Artist, Santa Fe, New Mexico
---
"Approaching my late 60's, a seed I had planted in the past for higher education began to reawaken, and I started an earnest search for a graduate program that would nurture my creativity as well as strengthen my scholarly ambitions. I had to look no further than the Engaged Humanities Program at Pacifica Graduate Institute. I came to a Pacifica Introduction Day and recognized a vital life affirming energy that felt very familiar in a soul-centered way. I entered the program soon after that introduction day event. The classes that make up this program have given me new tools to work with the creative principles of the psyche within and of the world. The program is rigorous and scholarly but places its emphasis on the creativity of the psyche and the unconscious which is a unique and deeply satisfying lens with which to approach the humanities. The innovative structure of module learning along with a residential aspect every quarter has been very exciting and works well for those with busy lives. I think anyone who is desiring a way to develop their creative fully and awaken their intuition through a scholarly initiative would find the Masters Program in Engaged Humanities at Pacifica key to accomplishing that purpose."
Jenner Jones "short story author"
---
Our world is characterized by ecological and social challenges as well as technological change. Only a community with exceptional creativity skills can thrive in such conditions. Pacifica's M.A. Engaged Humanities and the Creative Life is a Masters in Creativity that is specifically designed to enable students to become employees and citizens who can meet these challenges.
Pacifica's M.A. Engaged Humanities and the Creative Life Program enrolls every fall and spring quarter and the Admissions Office is currently accepting applications. We welcome your inquiry and look forward to speaking with you more about the program. You can reach our office at 805.969.3626 ext. 305 or admissions@pacifica.edu.