A guest post by Craig Chalquist, Ph.D.
Now and then I've heard the criticism that depth psychology is not useful in emergencies. I beg to differ.
As I write this, the enormous Thomas Fire burns in the hills above Pacifica. Whether it remains there or sweeps down on the buildings below is largely up to the wind. Sitting with this disturbing fiery symbolism, I reflect that the dichotomy between psychologizing and safeguarding is a false one. We have taken all possible steps to make sure Pacifica people are safe. We have also removed vital equipment and materials, supported each other, and conversed every day about how to operate the school with the possible loss of buildings by fire.
Yet even as we act, we sit with the larger story of what this fire might mean. Why? Because in tending a different view, we make sense of apparent chaos and give ourselves a place to stand within the whirling sparks of uncertainty. A place from which to support our friends and neighbors and each other in a time of devastating loss.
"Thomas" means "twin"; and in fact the San Fernando fire burst forth shortly after Thomas fire appeared in Santa Paula, named after a saint hurled from his horse by the bright light of unexpected, shattering revelation. On a fire map Thomas looks like an enormous monster trying to swallow Ojai [1].
Fire, of course, was one of the dangerous gifts that mythological Trickster brought into the world along with sex, death, and chaos. A past blaze in Santa Barbara was known as the Coyote Fire. What is Coyote, spreader of chaos and breaker of routines, trying to tell us? What is his mother Earth enlightening us about?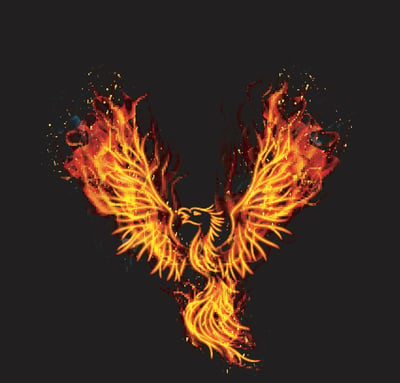 In alchemy, fire drove the Great Work of transmutation. Burning away impurities, it left the residues to be shaped and cooked by patient alchemists into noble essences of healing. What new work awaits us, rising Phoenix-like from the ashes?
In dreams, fire can show where our passion smolders, simmers, flames, or explodes. When discussing papers with students I often ask: Where is the fire in this? What do you wish to stoke? What needs tamping? Forging? Cooling?
As the Thomas fire burns and the winds of the Fates decide where to shift, humanity is busy turning Earth into a gigantic alchemical crucible. The heat is rising. What new blends of wisdom and healing bubble in the mix? And how might we take the fire back into our own bellies, alchemizing the rage of our global anger management problem into passionate fuel for what Joanna Macy [2] calls the Great Work of our time: cooking up a truly life-sustaining civilization of inclusion, justice, and delight?
Today, the need for this Great Work blazes in our own backyards like a Phoenix about to ascend. We ponder how to act on the summons as we contemplate reopening.
[1] See an active satellite map over viewing the Thomas Fire here: Fire Map.
[2] See Joanna Macy and her work at www.activehope
---
Craig is Associate Provost at Pacifica Graduate Institute. He earned his Ph.D. in Depth Psychology at Pacifica Graduate Institute and also holds a Master Gardener certificate and another in permaculture design. He is the author of Terrapsychology: Reengaging the Soul of Place (Spring Journal Books, 2007) and co-editor with Linda Buzzell, MFT, of Ecotherapy: Healing with Nature in Mind (Sierra Club Books, 2009). Craig was core faculty in East-West Psychology at the California Institute of Integral Studies and former core faculty at John F. Kennedy University, where he served as acting department chair (Consciousness & Transformative Studies), designing and launching the world's first ecotherapy certificate. He also is founder of Immanence Myth Journal http://www.immanencejournal.com