Every fall students in the the Community Psychology, Liberation Psychology, and Ecopsychology Specialization of the M.A./Ph.D. Depth Psychology Program gather together to present their Community and Ecological fieldwork research projects. The community and ecological fieldwork projects take place during the summer quarter of a student's first and second year in the program. Working with a faculty advisor, students choose an organization or group to work with, applying the insights and methodologies learned from this innovative course of study.
In mid-December of 2015 students, alumni, staff, faculty, and guests gathered together on the Ladera Lane Campus to view the poster and multi-media presentations created by the students of the Community Psychology, Liberation Psychology, and Ecopsychology Specialization.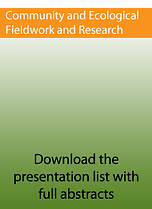 To share this exquisite and powerful work of the students, and the communities they engage with, I have provided a list of each presentation. To learn more about the individual communities and fieldwork students work with download the list of presentations complete with full abstracts.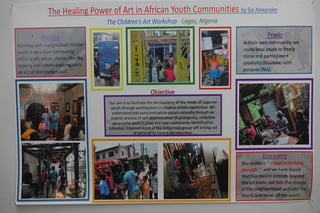 Creative Art with Marginalized Children in Lagos, Nigeria by Sia Alexander
---
Side By Side by Marcia Alexander
---
Green Space in LA: The Groundwork for a Community Revolution by Kristopher Chew
---
Good Intentions: Medical and Disaster Relief in a Third World Country by Susan George-Rydberg
---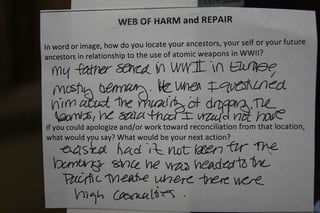 Harm and Repair: Reflections on a Fieldwork Experience with the Fellowship of Reconciliation in Japan by Samantha Gupta
---
Feeling the Unknown: Trauma, Place, and An Uncertain Future by Jonathan Horton
---
Míw'ïy-a-t-i' 'učù: Our People Are Living Creating Sacred Space to Remember, Celebrate Survival, and Revitalize a People Through Traditional Miwok Basketweaving: A Narrative History by Skye Keeley-Shea Innerarity
---
Walking the "Earth Path": A Deep Reflection on Cultural Appropriation by Carol Koziol
---
Understanding Racism Through Service and Inquiry by Mari Larangeira
---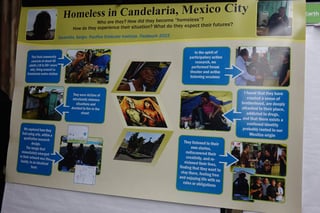 Homeless in La Candelaria, Mexico City by Sergio Ignacio Escamilla Sánchez
---
Transforming Peers' Lives: An Analysis of Cooperative Leadership in an Independent Peer-Led Organization by Elizabeth R. Stone
---
Don't Delay Joy: A Depth Psychological Inquiry of the Carousel of Happiness by Robin Svenson
---
Engendering Engagement: A Journey Toward Non-Profit Collaboration by Gabrielle Zhuang
---
Reciprocity and the Emphatic Truth of Gesture: An Environmental Hermeneutic by Holly Allen
---
Searching for Okinawa Identities and the U.S. Military Colonization in Okinawa by Fujika Ariarakawa
---
LIFEbeat: A Transformative Arts Camp for 14-18 Year Olds by Nicola Bennett
---
Reparative Work In Communities Impacted by State Violence by Elizabeth Deligio
---
Accompanying the Local Oaxacans by Renata Funke
---
Playing Music For Animals: An Exploration Into Interspecies Communication by Nancy Grace
---
Initiatives for Higher Learning and Social Change: Re-visioning the Future of Incarcerated People by Aaqilah Islam
---
The Land – The People: The Relationship between People and Land by Hanh Le
---
Discovering the Unconscious: African-Centered Nature-Based Activities for African American Men by Jonathan D. McCray Sr.
---
Observations in India: Studying the Experience of Persons With Intellectual Disabilities by Jonathan Rudow
---
Displaced Legacies: I'm Gonna Shine 'Til I Blind Y'all by Wanda Ali Batin Sabir
---
You can also view multi-media presentations of previous presentations here.