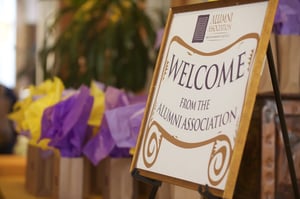 Community & Connections—Inspiring Resilience and Hope. Pacifica's "Coming Home 2018": JOIN US ON CAMPUS or ONLINE May 19th
In Homer's ancient Greek classic, The Odyssey, the hero Odysseus, who has spent ten years of his life in exile, is described with eyes never dry and with his life force flowing away with his tears as he weeps for home. Many Pacifica alumni and students who have studied depth psychology, mythology, ecopsychology, somatic psychology, or related topics at Pacifica Graduate Institute can relate to the feeling that Pacifica serves as a sort of "home" for them, and once their studies end, they often long to return to the soulful landscapes of the people and the place. In his book, "At Home in the World: Sounds and Symmetries of Belonging," Jungian analyst John Hill (2010), suggests "home" is, in part, the need we each hold to create shared meaningful experiences. *
It is in this spirit of creating and reflecting on shared meaningful experiences that Pacifica Graduate Alumni Association (PGIAA) and Pacifica Graduate Institute (PGI) host the annual "Coming Home" event. This year, "Coming Home: Community & Connections – Inspiring Resilience and Hope," is a special half-day event that takes place both on campus and online. For the first time, interested individuals can participate in Coming Home live at Pacifica's Ladera campus, and the main events will also be available online via Zoom video broadcast for those students, faculty, alumni, and friends who are scattered around the world and unable to attend in person.
Many in the Pacifica community know that 2018 has been a challenging year in the Santa Barbara area. The destructive Thomas Fire—ultimately the largest in the history of the state—followed by devastating debris flows, threatened both Pacifica Campuses in the early months of the year. Staff, faculty, and students were evacuated multiple times and for weeks on end as the community reeled under the onslaught of these natural disasters. Pacifica Alumni Association's signature Coming Home event for 2018 was postponed twice, along with numerous classes and events.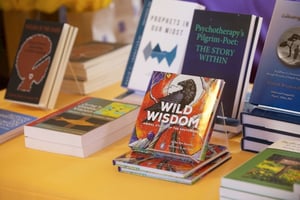 At the same time, in the wider world, we continue to witness numerous natural disasters, refugee crises, political unrest, civil violence, environmental distress, and significant social issues virtually everywhere on the planet. This era in the history of our planet is fraught with challenges.
Yet, there is much to sustain us, even in the throes of distress. We are stronger together! The gift of community, especially one that is steeped in the understanding of depth psychology and the workings of the unconscious, shores us up across the distances that seem to separate us. Our common bonds founded on strength, empathy, creativity, and compassion—with contributions from myths, dreams, and symbols; our love for the Earth and all its beings; and our joy in the companionship of like-minded others while honoring diversity in every form—all serve to provide us with context and meaning.
But how do we maintain our connection to community and to one another in trying times? How do we feel at home in the world when we neglect to renew our connection to those things of the soul that sustain us? How do we tap into our inner depths and turn to the imagination to offset despair when difficulties threaten to overcome us? There is hope to be had, and it sparks human resilience at its deepest and most profound levels, if we but listen and engage.

Our three esteemed presenters for Coming Home 2018 will expand on these themes of hope and resilience, community, and connection:
Nely Galán, MFT, an alumna of Pacifica's Counseling program and a self-made media mogul, will offer the keynote address, "A Self-Made Journey to Congruence: How Depth Psychology Sparks Resilience and Growth." Dubbed the "Tropical Tycoon" by The New York Times Magazine, Galán was the first Latina President of Entertainment for a U.S. television network (Telemundo). She is an Emmy Award-winning producer of over 700 episodes of television, and the author of the New York Times Best Selling book, SELF MADE, Becoming Empowered, Self-Reliant and Rich in Every Way (2016). Galán will reveal how studying depth psychology helped her find a new career path that allowed her to experience more meaning and happiness, and to become more congruent—knowledge she has shared with multicultural women around the country in a non-traditional way by introducing depth psychology to an underserved community. By bringing depth psychological applications to the wider world, Galán's work provides valuable insights and innovative opportunities for transformation in individual, group, and community work for psychologists, practitioners, and professionals of all kinds.
In the second part of the event, Jennifer Leigh Selig, PhD., a Pacifica alum who has served on the teaching faculty at Pacifica for many years will present "Amazing Grace: Transcending the Frenetic or Paralytic Relationship Between Hope and Despair." Selig has been an educator for 30 years, and is the author of many books, articles, screenplays (and a few bad poems from her early 20's that are best forgotten, she jokes!). "In times of crisis, understanding the relationship between hope and despair contributes to our ability to take action," notes Selig, "and learning to live with the tensions that are inherent in our lives allows a space to emerge in which something new can arise."
Also speaking is Daphne Dodson, Ph.D., a research psychologist, writer, and an excavator and curator of the stories of our lived experiences, who will share her original work in a presentation entitled "Imaginal Remembering: Finding the Crossroads of a Resilient Self and a Hopeful Imagination." Dodson will broadcast live to the conference from North Caroline where she lives with her family. She completed her Ph.D. in the Jungian and Archetypal Studies program at Pacifica.
The Mistress of Ceremonies/Host is Kelly Carlin, M.A., author of A Carlin Home Companion: Growing Up with George. Whether she's talking on her podcast, "Waking from the American Dream," teaching live or online workshops about seeing and transforming the stories we unconsciously live out, or interviewing today's top comics on her SiriusXM show, "The Kelly Carlin Show," Carlin enjoys pursuing the big questions, and reveals unmined perspectives that opens minds and hearts.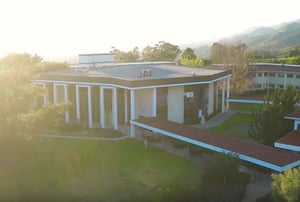 The Coming Home 2018 event will include check-ins from satellite gatherings of students and alumni around the world, as well as an update from Pacifica president, Joseph Cambray, on the Pacifica campuses and local community after the crisis created by fire and debris flows earlier this year. All attendees, either on campus or online, are invited to participate in an online Community Showcase by submitting essays, art, and poetry on the theme of "Community & Connections – Inspiring Resilience and Hope." Selected submissions will be featured on the www.ComingHomeToPacifica.com web site. The deadline to submit items for publication is June 30, 2018, and may be emailed to the Pacifica Graduate Institute Alumni Association (PGIAA) at alumnirelations@pacifica.edu.
Students and alumni are also invited to write "Letters of Hope" and submit them, either by snail mail or by email, so they can be privately distributed to individuals and families who are undergoing profound crises in their own lives. A simple note lets someone know that they are "not forgotten by the human family," maintains Jill Griffin, PhD, a Pacifica alum from Santa Fe, NM, who is heading up the project. "Lending strength, encouragement and hope through a short note or letter only takes a few minutes and can give someone the strength to face another day." Those wishing to contribute Letters of Hope can find details here.
Other important components of Coming Home 2018, both on campus and online, include the 2018 Chancellor's Awards, Author Spotlights featuring selected Pacifica alumni authors who have published books, and an update from the OPUS archives, as well as a special closing ritual offered by Jo Todd, the newly elected president of the PGIAA Executive Board.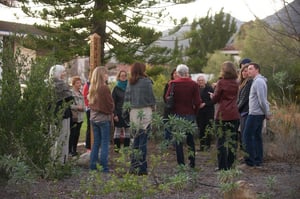 Everyone who is interested is welcome to participate in Coming Home 2018, and there is a great deal of excitement—as well as some healthy trepidation—about broadcasting it to people watching at home for the first time. "Many hours of thought and energy has gone into planning and offering this new format, especially as Pacifica continues to explore new ways through technology to bring the events of the day to those wanting to connect across distances," maintains Dianne Travis-Teague, Director of Pacifica's Alumni Relations, and creator of the annual Coming Home event. "While we are keenly aware that technology can sometimes fail us in the moment, we are willing to push our boundaries to adopt new systems and technologies so we can share more of what Pacifica has to offer with those who cannot travel to Pacifica to take part in person, and this event will inform our future endeavors." Therefore, if there are technical issues with the live broadcast from a campus where dozens of students, faculty, and staff on campus share the same server for their Internet needs, Pacifica will do its utmost best to record the proceedings and offer them online after the live event. "There's always a learning curve to attain new thresholds, and sometimes it's a risk, but we'll be making offerings to the mythological god of communications, Mercury, before and during the event," laughs Santos Artiago, an A/V Administrator and Help Desk Analyst on the IT team at Pacifica.
The cost to attend on the Ladera campus or to view Coming Home 2018 online via the Zoom platform is a suggested donation of $20. While a donation is not required, everyone wanting to attend either on campus or online should register in advance. All proceeds go to support the efforts of PGIAA and Pacifica alumni around the world. Those attending online via Zoom require a stable Internet connection with sufficient speed to properly stream the audio and video feed, and will be sent a custom link to click a few days before the event in order to view and stream the event online. More details and registration to attend on campus or online can be found at www.cominghometopacifica.com.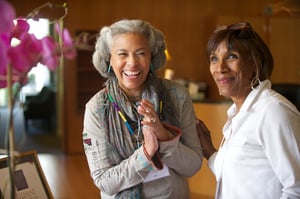 Jungian John Hill suggests that home is the "space between the outer and inner, the old and new," and believes that "The longing to belong expresses a dimension of the soul, transcending the limited horizons of waking life."* If a sense of home offers us a sense of ourselves, our psyche, and our place in the world, won't you come "home" to Pacifica—either on campus or online on May 19th—by attending Coming Home 2018: "Community & Connections— Inspiring Resilience and Hope"?
*In John Hill. (2010). At Home in the World: Sounds and Symmetries of Belonging. New Orleans, LA: Spring Journal Books, p. 5.
WHO: Pacifica alumni, students, and everyone interested in depth psychology and Pacifica Graduate Institute
WHAT: Special half-day event, hosted by Pacifica Graduate Institute Alumni Association (PGIAA)
WHEN: Saturday, May 19, 2018, from 1pm to 5pm U.S. PDT.
WHERE: Pacifica's Ladera campus (801 Ladera Lane, Santa Barbara, CA) or online via Zoom
HOW: Register to attend either on campus or online at www.ComingHomeToPacifica.com. Online attendees will receive a link to join the Zoom video broadcast a day or two before the event.
COST: Suggested donation—$20, but not required. Everyone must register to attend either format.