Pacifica was honored to have Andrew Samuels, internationally recognized political commentator and theorist from the perspectives of psychotherapy and depth psychology, present at the October conference Up Against the Wall: Politics, Community Psyche. Dr. Samuels presented "A New Therapy for Politics?" and we are delighted to share that lecture with the Pacifica community.
In his talk Dr. Samuels' discussed whether the many projects that seek to couple politics and psychology/therapy can in fact succeed in changing anything. Some ways in which we might do the 'analysis and activism' thing better are suggested, and tribute is paid to the approaches being pioneered at Pacifica. Discuss will cover a range of political concerns from the perspective of 'therapy thinking'. Topics for further exploration will be determined in co-operation with the audience. They could include: Leadership – the 'Good-Enough Leader;' Political violence as a rational act; The economy – it's the stupid economy! Why people deny climate change; and The political contribution of transgressive styles of personal and intimate relationships.
We are grateful to Pacifica's Clinical Psychology Department, who hosted this event with the assistance of The Retreat at Pacifica Graduate Institute. The Retreat at Pacifica offers a riveting calendar of programs certificates, and workshops with leaders in the field of the arts, sciences, business, and the humanities.
We hope you enjoy this presentation and welcome your feedback and discussion.
---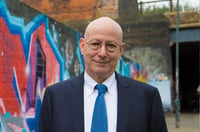 Andrew Samuels, PhD, is recognized internationally as one of the foremost political commentators and theorists from the perspectives of psychotherapy and depth psychology. He has worked as a consultant with political leaders, parties and activist groups in several countries, including the United States. He also consults to Britain's National Health Service. He draws on a wide range of approaches to psyche, including post-Jungian, relational psychoanalytic and humanistic ideas. But he roots his work in citizens' lived experience, and in what can be learned from therapy work carried out with political awareness. While Andrew does not disguise his background in progressive and left-wing politics and his commitment to diversity and equality, he remains open-minded and celebrates many different takes on social and political issues.