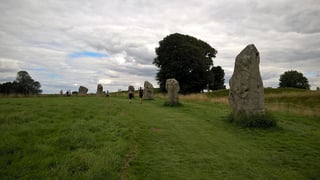 After Dr. Evans Lansing Smith (Lans) gave a series of lectures on the Grail Romances at the C.G.Jung Institute in Kusnacht, Switzerland, one of his attendees, Dr. Michael Best, introduced himself and proposed planning a trip that would appeal to the analysts and candidates at the institute, and to students and alumni at Pacifica Graduate Institute. This idea has since materialized, and in July 2018, Lans will lead a group of scholars, adventurers, and historical and myth enthusiasts through an intellectual and stimulating tour of Southwestern England.
During the week-long excursion Dr. Smith will offer presentations on "The White Mare of Uffington in Folksong and Myth," on "The Paintings of Stonehenge and Salisbury Cathedral by John Constable," and "King Arthur and Medieval Literature." We invite you to explore more about this upcoming pilgrimage with Chair of Pacifica's M.A./Ph.D. in Mythological Studies Program, Dr. Evans Lansing Smith (Lans).
A Glastonbury Romance July 8-15, 2018
This trip focuses on the Grail Romances and Mythologies of Southwestern England, from the Neolithic sites of Stonehenge, Avebury stone circle, Uffington 'Castle' hill fort (and Wayland's Smithy and the White Horse); to the Arthurian sites of Glastonbury (Arthur's Grave, the Chalice Well, the ruined Abbey, and the Tor). There will be presentations by: Dr. Evans Lansing Smith, Dr. Janis Maxwell, and Dr. Michael H. Best. There will also be musical soirées with Dr. Kayleen Asbo, dream circles with Cheryle Van Scoy, and ceremonies at Stonehenge and on Glastonbury Tor with Rev'd Dr. Sylvia Best. In addition, there will be guided tours of Wells Cathedral and the Bishop's Palace and Gardens, Glastonbury Abbey ruins, a talk by Kathy Jones, founder of the Goddess Temple and priestess training in Glastonbury, and an excursion to Oxford to see the J.R.R. Tolkien Exhibition at the Bodleian Library and visit Merton College. A medieval banquet will be held in the 14th century Vicars' Hall of Wells Cathedral, and a dinner celebrating the 'Best of British' cuisine in Glastonbury, which will be prepared by a top London-trained Chef. Headquarters for the trip will be at the University in Bath, a town famous for its Roman bath ruins, its hot spring Spa, and the Jane Austen museum.
The cost of the study tour is £1700 sterling, excluding travel to and from the UK. Space is limited, so please book early (first-come, first-served). Most dietary requirements can be accommodated.
Link for registration: A Glastonbury Romance Tour
Questions? Please email the organizers at: info2018@a-glastonbury-romance.com
For more information about the presenters, accommodations, and the full program schedule, visit: www.a-glastonbury-romance.com