From Information to Inspiration: An Interdisciplinary Career Based on Myth, Music, Depth Psychology, and the Arts: An Interview with Kayleen Asbo, Ph.D. A Guest Blog Post by Bonnie Bright, Ph.D.
As a cultural historian, Kayleen Asbo has crafted a fascinating career by weaving together mythology, depth psychology, music, literature, and women's studies. She uses this interdisciplinary tapestry to teach, lecture, perform, and lead cultural, historical, and spiritual pilgrimages around the world in a remarkable set of venues. She has perfected the ability to offer experiential learning through her sheer passion for what she does. She cannot imagine how each of these fields could be contemplated as being separate from one another.
Kayleen refers to her "medieval imagination," through which she views things in terms of their "hidden wholeness." As a pianist and composer who works regularly with symphonies and operas in the San Francisco Bay area, she is keenly aware that most of us can enjoy music and be moved by it. However, we can gain an entirely new, multidimensional, and valuable perspective by understanding the foundation upon which a given piece of music rests—whether it's the myth of Orpheus, the Eleusinian mysteries, or the poetry of Goethe.
Kayleen approaches the essence of any potential topic with as much diversity as possible. From that standpoint, myth, psychology, music, and art may all be seen as different expressions of the quest for what it means to be human. From this rich approach emerges various mediums, such as poetry or painting, that express the universal human journey. The more we can gain from the inter-relationships between these different fields, the more depth it brings to our awareness and experiential connection to the material world. For example, Kayleen, who has recently joined Pacifica's Mythological Studies Program faculty, can't imagine teaching the myths of Apollo or Dionysus without also giving students a direct experience of the different modes and music of those two gods.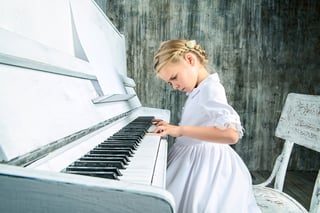 As Kayleen's first love, music was deeply embedded in her upbringing. It had such power over her that she recalls dreaming at the tender age of three of making her way towards a piano with the notion that if she didn't touch the keyboard, she would die. Music was a lifeline throughout her childhood, which led to her training to be a concert pianist, soloing with her first orchestra at only 12 years of age.
However, at age 18, she experienced a profound "crippling." This happens to many musicians, Kayleen explains, as a result of overuse and over-practice. By some vestige of grace, she realized she had to find a new reason and purpose to live. Fortuitously, several years earlier, she had discovered the work of C. G. Jung and the field of Depth Psychology. Voraciously reading his collected works, she threw herself in that new direction.
While her love of music remained, she understands in hindsight that what initially appeared as a limitation, was actually a blessing in disguise. Merely practicing the works of Bach, Mozart, and Beethoven would never have opened her to connect music with the profound cultural and historical backgrounds revealed in mythic studies, making the experience of the music far richer and deeper than it ever could have been. Music is one of the very few things that speaks to both our left and right hemispheres in our brains, she reveals, and so it can balance us in times of tension, stress, or crisis. As the ancient Greeks explained, music was never really intended to be entertainment; rather, it was seen to shape the moral character of the universe.
We all know the experience of hearing a piece of music that goes straight to our hearts, bypassing the rational mind and causing tears. Yet, at the same time, it is a sophisticated form of abstract thought; embedded within it are many ways of connecting to the deepest philosophical and ethical traditions. Bringing music together with story and image creates a transcendent force that binds people together across time, cultures, and even issues that divide us.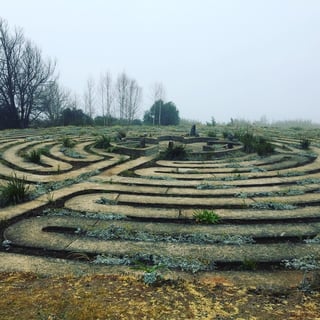 Kayleen, who leads an annual pilgrimage to Europe every summer, likens her burgeoning career to walking a labyrinth, which requires that one follows his or her heart, as well as tears. In her own synchronistic experience, she once met an African man in France who called her "Madeleine" (a derivative of Magdalene), because, he said, she followed her tears.
How can pilgrimages to various destinations—such as the Chartres cathedral [1] labyrinth in France, sacred sites in Glastonbury, England, and the Holy Grail—possibly be related to the figures of Pythagoras, Beethoven, Camille Claudel, and Dante, she muses. Yet, what she has found over and over, is that if you keep following that thread—like mythical Ariadne who was once lost in the labyrinth—eventually you will find yourself in the center. The labyrinth, with all its twists and turns that seem to lead you away from your goal, has been a profound metaphor for her career. For example, it was not her knowledge of music that initially landed her work with the San Francisco Opera, but rather her expertise on the topic of Mary Magdalene. Again, when she was hired to teach music history through the Santa Rosa Symphony, she was hired not as the world's greatest concert pianist, but because of her connection to the story of Orpheus and how that related to Beethoven.
The work of bringing together so many different fields stems from her burning passion and desire to create something that is truly unique. We live in an age where information is radically accessible on the Internet. Kayleen points out that the exciting careers of the future are going to come, not from a narrow pursuit of one specific domain, but rather by making unexpected intuitive leaps between disciplines. This makes the current moment a very exciting time to be alive. Following her passion to wherever it leads has made "all the difference in the world," leading Kayleen to a teaching career that really lights her up, and providing opportunities to travel the world for three months a year, gathering research in order to share it with "friends" across the planet.
The age of enlightenment, powered by reductionism and rationalism, is becoming ever more narrower, she notes. By following not only our "passions of the mind," but also responding to what our hearts truly want, we'll be led to those unexpected places of insight where the frontier of wisdom lies. As this discovery process moves from "information" to "inspiration," we gain understanding of how the world is connected in a far deeper and more profound way than we ever could have imagined. There is kinship that reaches across the centuries and across disciplines in completely unexpected ways.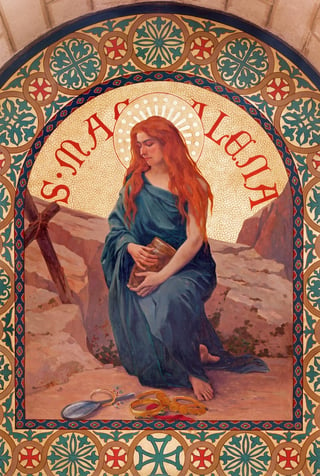 Kayleen, who wrote her dissertation at Pacifica on the myths of Mary Magdalene throughout art, music, and culture, believes that the Magdalene figure is critically important to our culture. In the Gnostic texts of Nag Hammadi [2], Mary Magdalene is described as "anthropos," which can be translated as "fully human." This archetypal figure offers a tremendously deep capacity to go between worlds. "On the one hand, all of the canonical texts are unanimous in depicting her as the person who is able to stand at the foot of the cross and witness suffering and pain and death and sorrow. And simultaneously they also depict her as the person who arrived on Easter morning who was able to see," Kayleen relates. "With eyes came the possibility of new life—even though it doesn't appear that she might have expected it."
At a mythic level, and at a time of much grief and suffering on the planet amongst people and nations, politically and environmentally, Magdalene invites us to hold these two positions of witnessing suffering and holding hope. It seems that there is almost more sorrow in the world than we can possibly bear, yet Magdalene was able to stay present with the suffering to the very end, and equally importantly, to not close her heart from either fear or despair. It is in both aspects, the "Good Friday experience of suffering," and the "Easter Sunday experience of joy," that new life became possible where it was least expected, Kayleen notes. That insight is an invitation for us all; an archetypal image about what it means to stretch ourselves large enough to hold both dichotomous sides.
Jung was fond of saying that the greatest danger to humanity is to become one-sided, she adds. If we stay stuck in the suffering, or if we turn away from suffering and only embrace what is light, then either one of those paths alone will lead to destruction. At a time when we are yearning for images of wholeness, there is much guidance that Magdalene offers toward a direction that's healing and whole-making, serving as a map for all of us to help us locate ourselves. Such profound insight is not only for women; male and female alike need those images of wholeness.
In some texts, Magdalene is also described as a figure of profound wisdom, an embodiment of Sophia. This is also the invitation that Pacifica offers its students so beautifully, Asbo says; to do the outer scholarship while simultaneously connecting it with the inner depths. Jung believed that each of us doing our own inner work is what can heal the planet and in that light, Magdalene stands as a figure of towering presence who invites us to have the courage to look within.
Students who attend Pacifica can study knowledge, process, and culture that provide maps for the journey. Kayleen points out specifically that alchemy, the transformational journey that begins with fire and disaster, and the alchemical stage of nigredo where everything falls apart, is a key piece of that journey at this historical moment. Besides being part of the Pacifica community that was threatened by the devastating Thomas fire in December, she resides in Sonoma County, California, which was ravaged by wildfires last October. One of the ways that she coped was to offer grief rituals and labyrinth walks. During one of those grief rituals, a psychotherapist commented that in the space of so much grief, "the greatest temptation is either going to be towards amnesia or anesthesia." We either forget—forget who we are, forget our way—or we will simply go numb. Even worse, people sometimes act out and start attacking from fear.
Access to a profound library of world wisdom—such as an understanding of traditions and rituals, alchemical pathways, mythological frameworks, or dreams—can show us the way out of chaos. When we are able to connect deeper traditions and myths to our own experiences and emotions, our worldview can expand so we learn how to hold the grief of others and the grief of our world. We can then act in ways that are creative and transformational, which our world desperately needs right now.
Kayleen fervently believes that Pacifica holds up a beacon, offering tools for each of us to become that kind of person who can do this creative, transformational work in the world. This work doesn't happen in a linear or prescribed fashion, but rather in a way that equips us with the capacity and imagination to meet the profound tragedies and challenges our world faces right now.
In many respects, Charles Dickens may have been speaking about every age when he wrote, "It was the best of times, it was the worst of times," Kayleen suggests. However, as a cultural historian, she is acutely aware that it is only within the past 10 years that so many possibilities have opened up to allow her to do this work and make so many interdisplinary connections. For instance, access to new translations of ancient texts, to the museums of the world, and to phenomenal recordings of music that have been buried in monastic libraries for centuries allow her to recognize how closely we are all inter-related.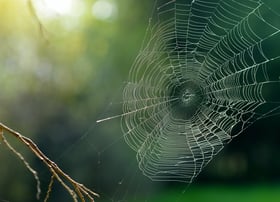 "We're not really seven degrees of separation apart from one another, we're one or two," she insists. "And that is an extraordinary thing to realize! It's weighty, but it is also filled with hope, that the ripple of positive change could spread so quickly if each of us does our own work and realizes that we are part of that web of creation."
May it be so!
Listen to the full audio interview with Kayleen Asbo here (approx. 34 mins):
Find out more about the M.A./Ph.D. in Mythological Studies Program at Pacifica
Learn more about Kayleen Asbo at www.kayleenasbo.com, or find her on Facebook via her personal profile and on her page, Canticle.
Notes
[1] Learn more about the labyrinth at Chartres Cathedral at wikipedia.org
[2] Get more information about Mary Magdalene in the Nag Hammadi texts in the Gnostic Society library
---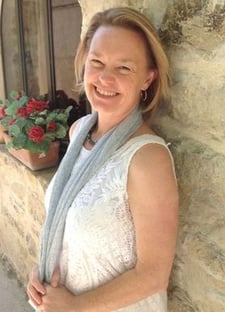 Kayleen Asbo, Ph.D. is a cultural historian, musician, writer, teacher, and passionate scholar who weaves myth, music, psychology, history and art with experiential learning. A faculty member of the Pacifica Graduate Institute and the San Francisco Conservatory of Music, Asbo also teaches regularly for the Osher Life Long Learning Institutes at UC Berkeley, Sonoma State University, and Dominican University. Her classes on a wide array of topics ranging from Depth Psychology to Dante to the History of Classical Music have been hailed as "inspirational," "fascinating and compelling," "transformational," and "truly life changing."
Educated at the San Francisco Conservatory and Pacifica Graduate Institute, Asbo wrote her Ph.D. dissertation on Passion and Paradox: The Myths of Mary Magdalene in Music, Art and Culture. She also holds three master's degrees, one each in music (piano performance), mythology, and psychology.
Asbo has been a guest presenter and lecturer on the intersection of history, mythology, psychology, and the arts at Oxford University in England, the Assisi Institute of Depth Psychology Conference in Italy, the Houston Jung Institute, Chartres Cathedral in France, Grace Cathedral, and the Graduate Theological Union in Berkeley. She leads workshops and retreats throughout the country and offers a pilgrimage to sacred sites in Europe every year.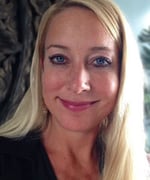 Bonnie Bright, Ph.D., earned her doctorate in Depth Psychology at Pacifica Graduate Institute. She is the founder of Depth Psychology Alliance, a free online community for everyone interested in depth psychologies, and of DepthList.com, a free-to-search database of Jungian and depth psychology-oriented practitioners. She is also the creator and executive editor of Depth Insights, a semi-annual scholarly journal, and regularly produces audio and video interviews on depth psychological topics. Bright is especially interested in ecopsychology, dream work, and divination, and has completed 2-year certifications in Archetypal Pattern Analysis via the Assisi Institute and in Indigenous African Spiritual Technologies with West African elder Malidoma Somé. She has also trained extensively in Holotropic Breathwork™ and the Enneagram.