A guest post by Craig Chalquist, Ph.D.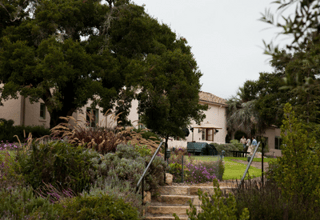 On my first day of class I was nervous. Probably all of us were. The catastrophe of 9/11 gave all we did an added poignancy, raising the question of what we were there for in the face of such tragedy and its fallout.
At Pacifica we sit in a circle, which could be daunting at first for the shy, but I was relieved to see a small group of us. That, I came to realize, was the norm at Pacifica.
After brief introductions, we dug right into the course material. Seminar-style discussion, brief experiential exercises, and some audio and film were the order of the day. Such methods would enter my own teaching style once I graduated and sought out classrooms as an instructor.
I was so fascinated by the material and the instructor's depth of knowledge that I forgot to be nervous. The psychology, interspersed with references to literature and art, philosophy and mythology, was not abstract, but real. From the very first day I could see and feel it illuminating my struggles, my upbringing, my way of being in the world.
One of the most precious lessons of my Pacifica experience was the lasting realization that the trials and conflicts I had felt so personally were, after all, reflections of contemporary issues. Jung had built his version of depth psychology on the bedrock—or perhaps magma—of this insight. The images and feelings bubbling up in him in the early 1900s pointed directly at the onset of World War I.
I continue to appreciate how available the professors made themselves to us. I was able to publish, for example, before I graduated thanks to this kind of mentoring. Conversations with two of my professors affirmed what I had only half-felt but needed to act on: It was time to change my career.
Students in my cohort met between classes to discuss our reactions to the material. We walked the seaside landscape, ate together, meditated, bounced ideas around. Sometimes we felt guilty being at school, but only temporarily because our work on ourselves was also, we saw, work on the state of the world. I also found it restorative to visit such a beautiful campus without having to move to Santa Barbara
When I see new faces in class, I always recall how I first felt to be here, right at the start of the adventure. I'm glad for the continuing opportunity to support new students whose enthusiasm and knowledge the world so urgently needs just now.
---
Craig is Associate Provost at Pacifica Graduate Institute. He earned his Ph.D. in Depth Psychology at Pacifica Graduate Institute and also holds a Master Gardener certificate and another in permaculture design. He is the author of Terrapsychology: Reengaging the Soul of Place (Spring Journal Books, 2007) and co-editor with Linda Buzzell, MFT, of Ecotherapy: Healing with Nature in Mind (Sierra Club Books, 2009). Craig was core faculty in East-West Psychology at the California Institute of Integral Studies and former core faculty at John F. Kennedy University, where he served as acting department chair (Consciousness & Transformative Studies), designing and launching the world's first ecotherapy certificate. He also is founder of Immanence Myth Journal http://www.immanencejournal.com