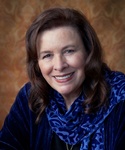 Soul-centered Action: A Call to the Collective Belief in the Possible Human and the Possible World An Interview with Dr. Jean Houston
A guest post by Bonnie Bright, Ph.D.
Jean Houston is almost legendary in popular culture for her passionate engagement, poetic rhetoric, and her poignant appeal for transformation and belief in what she calls "the possible human," also the title of one her nearly 30 books. One of her many current projects is the collaboration and production of a play which will be previewed at Pacifica Graduate Institute on March 4. "Tonight in Dreamland," a "serious comedy" as Houston refers to it, was written with Cheri Steinkellner, an award-winning writer and producer of a multitude of plays and TV shows (including the hit series, Cheers), and who is also currently a student in the Engaged Humanities and the Creative Life program at Pacifica.
Read More