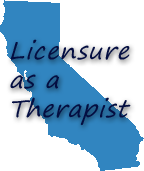 Find out if the program you are considering for your master's degree is from a qualifying degree-granting institution. http://www.bbs.ca.gov/app-reg/mft_schools.shtml
Become familiar with the website BBS, which stands for Board of Behavioral Sciences. This is the board that oversees licensure in California.
Does the program you are looking to attend prepare you to sit for the LPCC AND the LMFT exams? Do you want the option to sit for both licensure exams?
Read More