A guest post by Ginette Paris. The following is excerpted from her acclaimed book Heartbreak: New Approaches to Healing - Recovering from lost love and mourning.
§ Heartbreak is an amputation

When a right-handed person loses the right hand, the brain has to reconfigure all the synaptic connections that used to fire in relation to the lost hand. The process is literally the same when one is abruptly cut off from a beloved partner. There are three losses in heartbreak: the loss of the partner, the loss of the person you were with that partner, and the loss of the person you were for that person.
This book offers the combination of neuroscience and deep psychology that is essential to understand what happens in the brain to make heartbreak such a trauma, and how to evolve past the trauma.
§ There is no pill for heartbreak
The pain of bereavement would have a medical solution if loss of love were only a medical problem. There are already chemical solutions to help with panic attacks and anxiety symptoms and Big Pharma is always ready to offer medication for whatever appears to be a chemical imbalance in the brain. Yet mourning is the perfect example of the kind of distress that, like depression, ADHD and PTSD, calls for both a medical and a psychological approach. It also demands an examination of the cultural causes of the epidemic progression of post-breakup depression: harassment and violence. Our expectations about intimate relationships are eminently cultural, which explains why a true liberation of the heart cannot be delivered by medication.
§ Jump or die
We now know that the brain does not differentiate between psychic pain and somatic pain. There seems to be only one way to end the agony of heartbreak; neuroscientists call it an evolutionary jump, while depth psychologists call it an increase in consciousness. But what, one might ask, are we supposed to become conscious of? The answer is in our instinctual makeup: we need to acknowledge the jolt to the reptilian brain, as well as the fear that resides in the limbic-emotional system in order to jump to the next level of brain function, which is specific to the human brain. Humans can be either wise or foolish about relationships, but the way to wisdom is not innate, one has to learn it. Sometimes a book that explains the deepest aspect of the psyche can make all the difference.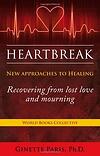 Dr. Ginette Paris is core faculty in the M.A./Ph.D. Mythological Studies program at Pacifica. Her book Heartbreak: New Approaches to Healing - Recovering from lost love and mourning oscillates between the point of view from a teacher/researcher, therapist, and subject.
"Ginette Paris is a master of metaphor. And when you are shattered by lost love only metaphor begins to reach through your bewildered mind to speak to your aching heart." -Sandra Lee Dennis, Ph.D.