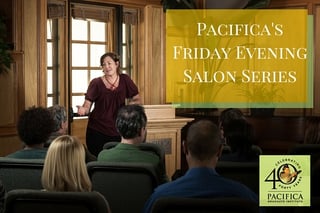 What are the Friday Evening Salon Series at Pacifica?
Throughout the year, Pacifica hosts prospective students on campus at The Pacifica Experience: A One-Day Introduction to Pacifica's Graduate Degree Programs. The Friday evening before each Pacifica Experience is reserved for public salons/lectures. These Salons are complimentary and open to the public.
We invite you to learn more about the meaning of the word salon and these wonderful lectures given by Pacifica Core Faculty members by listening to an interview with Dr. Jennifer Selig, who coincidentally will host the next upcoming salon this Friday, January 22nd from 7 - 8:30 p.m. titled The Right Address: How to Be Home When the Gods Come Calling.
Pacifica's Friday Evening Salon Series- An Interview with Dr. Jennifer Selig (mp3 ~ 4 minutes)
Past salon series lectures: