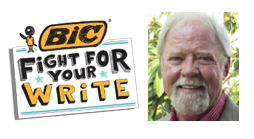 What does the new BIC Fight for Your Write campaign/pledge and Dennis Patrick Slattery have in common? While BIC may be thinking of their famed products, studies have shown that "taking notes by hand requires different types of cognitive processing than taking notes on a laptop, and these different processes have consequences for learning."1

For Dennis Slattery's upcoming writer's retreat this weekend, he asks that all attendees leave their laptops at home. Dennis provides a different prospective on writing in longhand, focusing on value of self-expression and it's reflection on our personality.
"Writing longhand, or cursively, adds something to self-expression that simply touching the keyboard misses out on. For instance, each of our handwriting is unique to us; hand-writing analysis reveals traits of our personality. I believe our personal myth is given expression in the very appearance of our handwriting. In addition, as it is based fundamentally on the spiral in our alphabet, cursive writing reflects in its geometry the contours of psychological growth. I say this because of the psychologist C.G. Jung's observation in his Dream Analysis Seminars that all psychic development is spiralic. We are always circling back to where we once were, but always a bit above or below our original place. So the spiral may in fact be the geometry of learning itself. Finally, there is a slowness about cursive writing that is cancelled out with typing. The slow drag of the pen over paper allows a tactile imagination to be present--with its cross-outs, write-overs and revisions showing the old and the new simultaneously. Some different form of creating takes place with cursive writing that makes it an invaluable addition to self-discovery."
---

Dennis Slattery presents Hunting and Gathering: Seeking the Shards of Our Patterned Plot, A Writer's Retreat from October 16-18, 2015 at Pacifica Graduate Institute's Ladera Lane Campus.
For more information about upcoming Public Programs at Pacifica, visit The Public Programs Event webpage.
1. May, Cindi. "A Learning Secret: Don't Take Notes with a Laptop." Scientific American 2 Jun. 2014. Web. 14 October 2015.