A guest post by Jeffery Abraham, M.B.A.
As we sit back and reflect upon the last year, we here in Guest Services and Facilities cannot help but feel a sense of joy and accomplishment. It has been a busy year here at Pacifica, as our teams have been working hard to create unique and welcoming spaces for our students and guests. I would like to take a moment to highlight a few of our projects.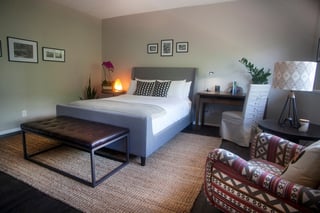 As our first project of the year, we underwent a renovation of ten former offices at our Ladera Lane Campus and transformed them into gorgeous semi-private guest rooms. These well-appointed guest rooms feature many unique fixtures, as well as, beautiful views of the Santa Barbara coastline and mountains. We have been honored to host many of our guests and students in these new accommodations since their completion in August.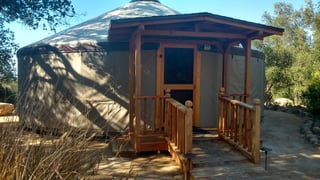 Another great project that has taken place at our Ladera campus is the build of our yurt. The yurt is located to the west of our administration building on the Ladera Lane campus and is nestled on a rocky little hilltop next to our lovely "peace fountain". Beautiful oak trees surround the yurt which helps to make the space peaceful and serene. The spot was formerly a small garden planted by the properties original owners. As of recent the garden had become heavily burden by California's drought conditions, however, in the spirit of Pacifica's mission and the help of our landscaping team were able to relocate and revive many of the plants. The yurt has become a sacred space used for yoga and meditation for many of our students and guests, as well as a classroom for our retreat offerings and academic programs.
Be sure to stop by and have a look around on your next visit to campus.
If would be our pleasure to host you for one of upcoming retreat offering or a residential session in one of our academic programs.
Guest Services and Facilities
---
For more information on how to book these accomodations at upcoming events or residential sessions please contact the Guest Services and Facilities Department at 805.969.3626 or visit www.pacifica.edu.