A guest post by Dr. Jennifer Selig
It was with great pleasure that I recently attended The 2nd Annual James Hillman symposium City and Soul at the Dallas Institute for Humanities and Culture. On the Institute's website they describe their mission: "For over thirty years, the Dallas Institute has conducted original programs that enrich and strengthen the cultural heart of our great city."
James Hillman was one of six founding members of the Institute; three of the other founding members were present at the symposium, along with Hillman's wife Margot McLean, which was one ingredient that made the event so special.
A second ingredient was the topic of this year's symposium: it addressed Hillman's collected essays in his book City and Soul, covering the book's four sections: Patient as Citizen, Politics of Beauty, Places of Practice, and Responsive Environmentalism. To celebrate "the city" in the city where Hillman helped found an institute dedicated to the city added a beautiful layer onto the event.
Five people affiliated with Pacifica were among the presenters.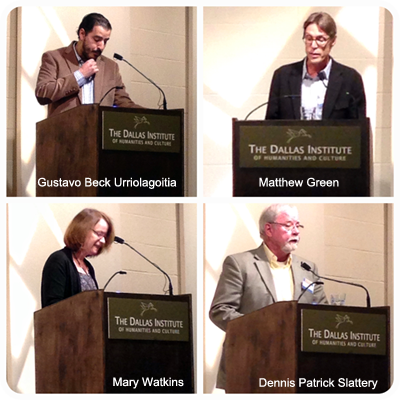 Robert Romanyshyn (faculty): "Sitting on a Park Bench with James Hillman: Conversations with the Dead"
Gustavo Beck Urriolagoitia (Myth dissertation student): "Returning to the Soul's 'Body Politic: Reflections towards Imaginal Democracy"
Mary Watkins (faculty): "Capitalism and the Commons"
Dennis Slattery (faculty): "Aesthetics, Politics, Ethics: An Emerging Trinity of Imagination: James Hillman's City and Soul"
Matthew Green (Depth alumnus): "Student as Citizen: Teaching Poetic Awareness"
The Dallas Institute staff and faculty went out of their way to make the event incredibly special, which included two great evening receptions. On the second evening, a spontaneous drumming and dancing session took place on the porch of the institute, a fitting way to bring more soul into the city, indeed.
If you're a James Hillman fan, I definitely recommend getting on their mailing list and attending next year's symposium. And bring your dancing shoes for Saturday night!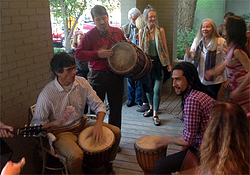 Jennifer Selig is faculty and former chair of the Jungian and Archetypal Studies specialization at Pacifica. Based primarily on the work of C. G. Jung and James Hillman, the Jungian and Archetypal Studies program takes depth psychology out of the clinical consulting room into the world at large, critically exploring a range of topics central to our understanding of the role of the unconscious psyche in human experience.