Illness, Identity, and the Archetype of the Exile: Finding Meaning and Vitality through Depth Psychotherapy-An Interview with Dr. Brad Chabin. A Guest Blog Post by Bonnie Bright, Ph.D.
Listen to the full audio interview with Brad Chabin here (approx. 29 mins)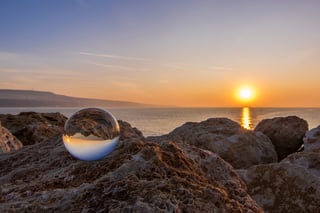 C. G. Jung viewed mid-life, the time midway between entering adulthood and the end of life, as a critical time of transition. Having focused primarily on priorities like career and family, people can be left with a sense that they are missing some fundamental meaning in their lives, a promise which might be revealed in the second half of life.[1] Dr. Brad Chabin, a depth psychotherapist with a practice in West Hollywood, California, had his own experience of a spontaneous and powerful mid-life transition.
After pursuing a career in the corporate world for most of his professional life, by mid-life he felt his career had mostly run its course. He reported struggling to find enthusiasm or joy in his work. At the same time, he received a devastating diagnosis of an incurable form of cancer, which is usually fatal. In the process, he found himself unable to maintain his career and facing discouraging financial consequences.
During those challenging times, Chabin now recognizes that much of his social identity slipped away. While he was lucky enough to have close, loving friends and family, he lost a sense of wider community with whom he had much in common. The ways in which he identified himself, such as health, income, and professional work, were "washed away"—a difficult process, but one that ultimately freed him to start over completely, as he later realized.
Living under the shadow of his grave prognosis, Chabin was not healthy enough to resume his corporate career, but he did feel able to go back to school and study. Since he had always loved psychology, he elected to resume his undergraduate studies, which he had abandoned decades earlier in favor of traveling in Europe. Upon completing his Bachelor's Degree, he was initially drawn to Pacifica for a conference on Joseph Campbell. Ultimately, he found a new home in Pacifica's Master's in Counseling program, where he was delighted to find that his studies offered him a new way of understanding what really mattered in his life. The concepts and ideas he learned from depth psychology made him feel curious and challenged in new ways and provided direction to his uncertainty in the process of developing a new identity and a new life after his devastating diagnosis.
Once at Pacifica, even though he was undergoing the stress of having a PET scan every three months to monitor his cancer, Chabin was surprised to find himself leading what he felt was a genuinely joyful life. After earning his M.A. in Counseling, he started internships to get licensed in California, a process which took several years. At the same time, he decided to pursue a Ph.D. in Depth Psychology with Emphasis in Psychotherapy at Pacifica, a program he loved as much as the Counseling program. Once he completed the Ph.D., he sat for his license so he could start his psychotherapeutic practice, following which, he turned his doctoral dissertation into a book.
Not surprisingly, perhaps, Chabin considers his long journey through academia as something of a miracle. His oncologist, whom he had been seeing for 10 years by that time, shared confidentially that none of the other individuals who were diagnosed at the same time as Chabin had survived the disease, and he wondered if Chabin could identify something in addition to the medical care he had received that could explain this remarkable phenomenon.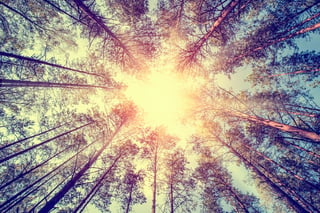 Chabin believes that the key difference for him was the process of engaging the psyche of engaging his psychological life in a direct way and understanding the reality and importance it plays in his life. If he had stayed in his old mindset, he asserts, he probably wouldn't have survived. He credits his work with depth psychology via Pacifica as the thing that ushered the vibrancy and vitality he had been missing back into his life—something which, for him, turned out to be the ultimate gift.
When people view the world through a depth psychological lens, it changes everything, he insists. While we typically look out upon the literal world, the more important reality may be the inner one. That perspective is one he wanted to share with clients. Even clients who do not have a background in depth psychology can be curious about their inner world and its symbolic connections if the therapist approaches his or her therapeutic practice as an art form, rather than from a cognitive or intellectual perspective. This approach requires a kind of inquisitive mind that includes openness, curiosity, intuition, and careful listening, as well as a sensitivity to image and to specific words. The environment ends up generating a degree of respect for what is happening inside the client. By honoring that, clients tap into the knowledge they need to heal themselves.
The container is critical. A good therapist can hold hope and possibility for clients who come to love the therapeutic process in much the same way that Chabin loved his experience at Pacifica, he acknowledges. It resonates with them. They find it healing and worthwhile and so they continue with it. He found a similarly powerful container in the cohort system at Pacifica, where a group of the same students go through the entire program together. In his case, he really got to know and appreciate his fellow cohort members, and felt they provided that kind of holding required for him to fully learn and grow in the program.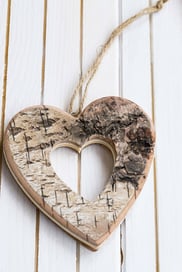 During his time at Pacifica, Chabin had an important dream that, for him, reveals the power of depth psychology and the "symbolic life" that C. G. Jung believed was so critical to our well-being. In one part of the dream, Chabin relates, he was taking part in a ritual, which involved a wooden heart with a clear center. His role in the dream ritual was to rub milk into the wooden heart, and as he did so, the images of his life emerged from the wood. As the ritual unfolded, ultimately, he was able to "see through" the heart, which was the source of the powerful life images presented to him.
For Chabin, the dream relates to alchemy—the idea that consciousness is embedded in matter and in the material we are surrounded by in our lives. It was also a communication to him about his own unique gift as a therapist who sees through the heart to understand the clients who come to him, in order to help them face tragedies and hardships, and unwanted fears, doubts, or behaviors.
While completing an internship at a high school early in his career, Chabin witnessed a number of youth who experienced isolation and depression because they questioned their sexuality and orientation. He remembers being so struck by the courage and tenacity he witnessed in many of these individuals who suffered greatly when they decided, after great deliberation, to tell their parents or friends they were gay, only to feel deeply rejected or betrayed. Chabin's book, Adolescent Males and Homosexuality: The Search for Self, emerged in part as a way to tell the stories of such young people, and to honor their courage.
It was also an effort to centralize relevant information about homosexuality in teens so that therapists would have a basic foundation of understanding in order to better work with and protect their clients. One thing Chabin identified in his work is that such individuals may often carry the archetype of the exile. Many of them felt there was something different about them as early as age five or six, so the sense of feeling like an outsider or of not belonging started very early in life. It ultimately carried over to feeling they were not welcome in their families or communities.
The one who notices he or she is not wanted, or who has been actively told they are not welcome somewhere, ultimately has to begin again, Chabin points out. The similarity to Chabin's own initiatory process when he lost his ego identity after being diagnosed with cancer is not lost on me. However, Chabin continues, the exile also provides tremendous wisdom about any small community he has been forced to leave, because he is then able see it from the outside. He can see things that those who remain in the community cannot see about themselves. Even though often deeply injured, such individuals are capable of finding happiness in another community, and of being close to unlocking their creative potential, he believes.
Many such clients Chabin sees in his practice, whether they identify as gay or not, work in creative industries like marketing, filmmaking, writing, or producing. Figuring out how to develop their own lives outside the mainstream, outside the structure they were initially given in life, requires them to tap into creativity even while they simultaneously carry the weight of a fundamental wound that stems from early in their lives.
Jung said that while everyone tends to look to the light for consciousness, the journey is actually about bringing the darkness to light[2], Chabin reminds me. The deep wounds of the exile require tending in ways that bring compassion, consciousness, and meaning. The gift of depth psychotherapy is that it provides a powerful mechanism to shine a light on the darkness, awakening vitality, creativity, and passion.
See C.G. Jung Speaking: Interviews and Encounters, pp. 106-108
Jung wrote, "One does not become enlightened by imagining figures of light, but by making the darkness conscious" in "The Philosophical Tree" (1945), Collected Works 13: Alchemical Studies, para. 335
1] Learn more about the M.A. in Counseling Psychology at Pacifica.
2] Learn more about the Ph.D. in Depth Psychology with Specialization in Integrative Therapy and Healing Practices at Pacifica.
Learn more about Brad Chabin at www.DrBradChabin.com
---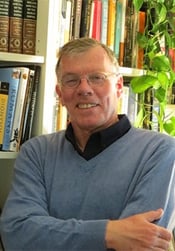 Brad Chabin is a psychologist with a psychotherapy practice in West Hollywood California. His practice is populated primarily with people from the LGBT community and from the entertainment and creative professions including filmmakers, TV and film editors, and writers. Brad has also specialized in working with at-risk LGBT teens and their families and wrote Adolescent Males and Homosexuality: The Search for Self in 2014 as a guide for therapists treating this population.
Brad's background – prior to pursuing a career in psychology – was in the business world where he held management positions in corporate America including positions with subsidiary companies of United Airlines and The Gillette Company as well as Japan's largest educational publisher, Fukutake Publishing Company. At mid-life, Brad left his corporate life and went back to undergraduate school in Santa Fe, NM, in order to get his Bachelor's degree in psychology. He earned his Master's Degree in Counseling Psychology at Pacifica Graduate Institute in 2006 and, later, earned his Ph.D. in Depth Psychology in 2011 at Pacifica. Brad lives in West Hollywood and is married to Stephen McCarthy, CEO and Founder of Brave Dog LLC, Hollywood, CA.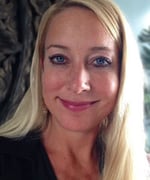 Bonnie Bright, Ph.D., earned her doctorate in Depth Psychology at Pacifica Graduate Institute. She is the founder of Depth Psychology Alliance, a free online community for everyone interested in depth psychologies, and of DepthList.com, a free-to-search database of Jungian and depth psychology-oriented practitioners. She is also the creator and executive editor of Depth Insights, a semi-annual scholarly journal, and regularly produces audio and video interviews on depth psychological topics. Bright is especially interested in ecopsychology, dream work, and divination, and has completed 2-year certifications in Archetypal Pattern Analysis via the Assisi Institute and in Indigenous African Spiritual Technologies with West African elder Malidoma Somé. She has also trained extensively in Holotropic Breathwork™ and the Enneagram.