An Interview of Juliet Rohde-Brown, Ph.D., by Angela Borda: Part I of III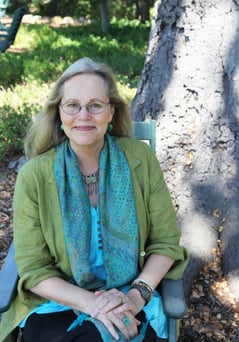 What attracted you to the field of psychology? Please tell me a little about the journey to being a teacher at Pacifica.
Juliet: I grew up with a brother with a brain injury and he opened me to consider that there's much more to this human condition than meets the eye. I became fascinated with why people think and act the way they do. My temperament was inclined to be that way anyway. I was very shy and also drawn to the arts, so I originally thought that the arts would be my path. I did some acting and singing in the 80s. As I was coming into the 90s I was transitioning and asking questions of my life that led me to I want to do more purposeful work in the world, something that would be helpful to people. That can be done through the arts, but in terms of making a living, in my early 30s, I got involved in hypnotherapy and did a yearlong training and supervision in that area. So in the first part of the 90s, I was a hypnotherapist and I worked with people with medical issues like AIDS as well as with others.
Doing hypnotherapy led me deeper into the field of psychology. I remember, as a teen, seeing the film I Never Promised You a Rose Garden, and the psychiatrist in that film was modeled after Frieda Fromm-Reichmann. I was fascinated with the depths of the human psyche and my own struggles with depression and with why I was drawn so powerfully to spirituality. All of these things combined—my brother, the arts, spirituality—were foundational for me in determining what is meaningful to people in this life. I was practicing as a hypnotherapist, and I knew there were people I wanted to work with, but needed a license that would ethically let me do so. So I went back to school, and finished my masters and doctorate. Once I heeded that call, everything took on a life of its own and spiraled into my becoming a psychologist. It was easeful in a certain way, I enjoyed the studying and threw myself into it 100%. I almost came here but, at the time, they weren't quite WASC accredited yet. I studied at Fielding Institute, where Stephen Aizenstat also went, and did practicums in different setting as well as internship and post-doctoral work—practicums in hospital settings with psychiatric inpatients, before that with those who had brain injuries, people with schizophrenia. The Jung Institute in Los Angeles and psych assistantship with a Jungian analyst in Los Angeles, among other trainings and experiences.
Then, I started a private practice and was working as an adjunct at Antioch University, which then became a fulltime position in their PsyD program. But I was always wishing to be at Pacifica because I was inspired by the explicit philosophical foundations around depth psychology as well as the mission statement. When the opportunity came up for the clinical position, I interviewed and did my faculty talk and was really pleased to be invited into a faculty position. So, I was director of clinical training, yet what brought me to psychology was a psycho-neuro-immunology framework, a holistic framework of psyche, soma, and meaning making. Pluralistic ways of knowing interest me, such as when I interact with my brother—there is something there, a profound meeting of the sacred, something beautiful and indescribable, something beyond words. He taught me about compassion too. He's my greatest teacher in life. And this opening at Pacifica really matches my phenomenological/depth/humanistic foundation. I've been the Chair of the Depth Psychology Ph.D. specialization in Integrative Therapy and Healing Practices for a year and a half, but I've been at Pacifica since 2014.