Pacifica Graduate Institute professors held an Eco-Grief Gathering and Ceremony in response to the Refugio Oil Spill. Also featured in this post is drone video footage of the oil spill, captured two days after the ruptured pipe line began spewing oil into the Pacific Ocean.
May 28, 2015 –Santa Barbara, CA.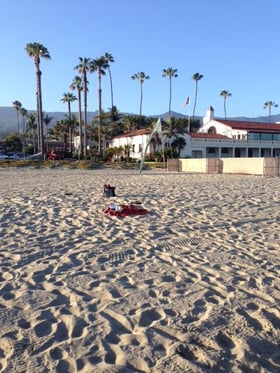 Linda Buzzell, M.A., LMFT, and Maren Hansen, M. Div., Ph.D., from Pacifica Graduate Institute hosted an Eco-Grief Gathering and Ceremony yesterday, in response to a recent oil spill at Refugio Beach.
Community members responded to the open invitation and gathered at East Beach in Santa Barbara. Participants young and old gathered in a circle in the sand near the ocean's edge. A beautiful conch shell was the traditional "talking stick", held by each person as they shared their deepest feelings. Many were heartbroken at the devastation to our local ocean, beaches, birds, whales, wildlife and human friends caused by the latest oil spill. Stories of surfing, camping and living along the coast of Refugio, El Capitan and Santa Barbara were shared with a sense of loss now, due to the oil spill which occurred just days ago. Pacifica student Debbie Bridge shared, The ceremony included chanting, a poem, and a ritual of focusing on our individual resolves to change parts of our own behavior that contribute to our dependence on oil, and carrying the sands of our resolves to place in the ocean. People recommitted themselves to the protection of the ocean and land they love. The ceremony ended with a 10 year old boy blowing the conch shell, loud and clear.
"In addition to providing support for one another, I found this gathering to be a way to communicate to ocean beings, as well as the water spirits, that there are those of us who care deeply about their well-being, are deeply saddened by what has happened and are committed to improving our relationship with them."
- Debbie Bridge, Pacifica Student in the Community Psychology, Liberation Psychology, and Ecopsychology Specialization of the M.A. and Ph.D. Depth Psychology program.
Pacifica Graduate Institute, with two campuses in Santa Barbara, California, is a WASC-accredited graduate school offering masters and doctoral degree programs in depth psychology, mythological studies, and the humanities. The Institute has established an educational environment that nourishes respect for cultural diversity and individual differences, and a rigorous academic community with a spirit of free and open inquiry. Students have access to an impressive array of resources including the OPUS Archives and Research Center, which is home to the Joseph Campbell Library and Archives.
The mission of Pacifica Graduate Institute is to foster creative learning and research in the fields of psychology, the humanities, and mythological studies, framed in the traditions of depth psychology. Consistent with and supporting this vision, Pacifica Graduate Institute is employee-owned, and practices shared stewardship.