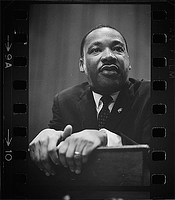 "Modern psychology has a word that is probably used more than any other word in modern psychology. It is the word 'maladjusted.' This word is the ringing cry to modern child psychology. Certainly, we all want to avoid the maladjusted life. In order to have real adjustment within our personalities, we all want the well‐adjusted life in order to avoid neurosis, schizophrenic personalities.

But I say to you, my friends, as I move to my conclusion, there are certain things in our nation and in the world which I am proud to be maladjusted and which I hope all men of good‐will will be maladjusted until the good societies realize. I say very honestly that I never intend to become adjusted to segregation and discrimination. I never intend to become adjusted to religious bigotry. I never intend to adjust myself to economic conditions that will take necessities from the many to give luxuries to the few. I never intend to adjust myself to the madness of militarism, to self‐defeating effects of physical violence…"

On Sunday, January 18, 2015, Pacifica Graduate Institute hosted a lecture and panel discussion honoring Dr. Martin Luther King, Jr. at the Ladera Lane Campus. The event was co-sponsored by Pacifica's Alumni Association and the Martin Luther King Jr. Committee of Santa Barbara. Below is the taped live event.

Moderated by Dr. Jennifer Selig distinguished panelists such as: Santa Barbara Mayor Helene Schneider, First District Supervisor Salud Carbajal, and California State Senator Hanna Beth Jackson shared their work of creative maladjustment in their beloved communities.