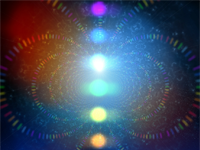 One of the papers that 2nd year M.A. Counseling Psychology students present to their peers and professor Allen Koehn is on healing. The assignment asks them to reflect on their first two years in the program and write about the personal transformation that has taken place. Because the program is psycho-active and students participate in personal therapy, they find themselves going through a process of healing as they acquire the tools and skills necessary to be a therapist. This process of healing and the return to wholeness is the topic for the next complimentary salon and lecture on Friday, June 26 with Allen Koehn, D. Min.
When professor Koehn was approached about presenting at the June 26 salon he thought it was synchronistic, having just finished up with his second year students and their presentations and papers on healing. For the upcoming salon and lecture professor Koehn will share some student stories of personal transformation and examine the healing process and why it is a part of everyone's life.
---
The salon and lecture Healing: The Return to Wholeness takes place at the Ladera Lane Campus on Friday, June 26 from 7-8:30 p.m. To register for this complimentary event, please email publicprograms@pacifica.edu.
The Friday Evening Salon Series takes place the Friday evening before The Pacifica Experience: A One-Day Introduction to Pacifica's Graduate Degree Programs.
801 Ladera Lane, Santa Barbara, CA. 93108