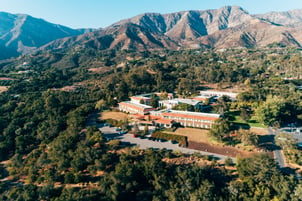 "The question of vocation is crucial, and choosing the right one requires listening to the voice within. The root of the word "vocation" is Latin for voice. Learning to trust that inner voice in the face of economic and social pressures that might urge otherwise is an act of courage. Accessing that courage is key to finding the voice."
~ Dr. Joseph Cambray, President and CEO
Many of us actively seek to connect with our inner voice and calling, in guiding us on our life's journey. Determining a graduate program that brings meaning and embraces our calling takes time, research, and a dedication to our self and making a difference. Whether seeking to enhance an existing career, beginning a new vocation, or striving for personal transformation and development, Pacifica's graduate degree programs will further you on the path. By following the institute's motto "animae mundi colendae gratia", which in Latin means "for the sake of tending the soul in and of the world", Pacifica's students become pioneers in the field of depth psychology through the lens of the various specializations and interdisciplinary curriculum that each program provides. Some students come into our programs knowing exactly what they want the degree for, or what they plan to do with it, but for others, it is their experience at Pacifica that guides them to their calling.
As an institute fostering education through a cohort and interactive learning model, Pacifica trains students to be in touch with the natural rhythms of human experience and the imaginal process, and gain a greater sense of awareness of the world around them. Pacifica has three vocational, therapeutic degrees: the M.A. in Counseling Psychology, which leads to licensure for L.M.F.T. and L.P.C.C., and the Clinical Psychology Ph.D. and Psy.D. degrees that both lead to licensure as a clinical psychologist.
Master's Level Licensure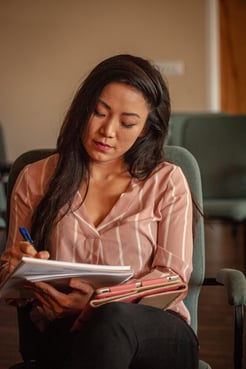 As preparation for licensure as a licensed Marriage and Family Therapist (L.M.F.T.) and Professional Clinical Counselor (L.P.C.C.), the M.A. in Counseling Psychology degree is a 2.5 year academic program with coursework, clinical training, and research. Students engage in experiential learning and collaborative learning processes during residential sessions when they are in classes, in online courses, and when they accrue traineeship hours during their 2nd and 3rd years at practicum sites (counseling centers with supervision).
Students in this program complete 93 units of coursework and 280 direct supervision hours in their home community in a supervised practicum traineeship setting (providing the opportunity to apply clinical counseling techniques in a clinical setting). Graduates of the Counseling Psychology master's program complete the remaining hours in order to sit for the licensure exam and become licensed. State requirements for licensure can vary from state to state, so applicants planning to be licensed outside of California are strongly encouraged to obtain licensing information and requirements from the licensing board in their home state.
Doctoral Level Licensure
Pacifica's 5 year Ph.D. in Clinical Psychology which consists of 3 years of coursework and 2 years for the dissertation. The program is inspired by psychoanalytic, Jungian, and existential phenomenological perspectives in their historical and contemporary formulations. It is interdisciplinary with dialogues related to multiculturalism, postmodernism, feminist theory, gender studies, indigenous psychology, complexity theory, post colonialism, ecological studies, Eastern thought, and contemplative practices and traditions. This program leads to licensure as a clinical psychologist (based on educational requirements for psychologists in the State of California).
| | |
| --- | --- |
| Psy.D. in Clinical Psychology Overview | Ph.D. in Clinical Psychology Overview |
The 5 year Psy.D. in Clinical Psychology program follows the practitioner-scholar model with an emphasis on the practical application of theoretical material to specific settings in which psychologists work. Graduates most often work in community-based agency settings, in private practice, in integrative health care settings, organizational settings, health service, and as faculty in professional psychology programs. Our curriculum stresses self-reflective practice along with interpersonal skills and the capacity to engage with others in inter-professional frameworks, focusing on clinical skills, projective and objective assessment, and treatment. This program leads to licensure as a clinical psychologist (based on educational requirements for psychologists in the State of California).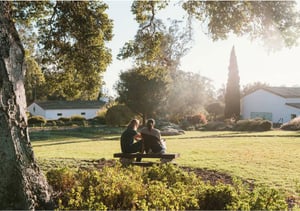 In order to receive the California Clinical Psychologist's license, students complete 4,000 pre-doctoral and post-doctoral clinical services hours and the exam requirements of the state. For California, these hours are obtained in two "tiers" of training during the programs: practicum (1000 hours required) and internship (1,500 hours required), and 1,500 hours post-doctoral. Upon completion of the doctoral degree and post-doctoral hours, graduates are eligible to sit for the two licensing exams (EPPP and CPLEE). Applicants and students are responsible for following and adhering to the licensure requirements of other states or countries in which they wish to reside and practice, which may differ from California's requirements.
Through the interdisciplinary study of texts that include psychology, spirituality, philosophy, and aesthetics, our students are able to question, define, and redefine the world of creativity. They ponder questions such as, "is the sense of beauty in our biology, or is it socially constructed?" They are taught to recreate all fields of study and professions, plus invent new forms, structures, designs, and products that address the needs of our current era. Students critically reflect upon their own beliefs about creativity and the cultivation of aesthetic sensibility.
As a graduate school offering degree programs to further self-exploration and philosophical and psychological approaches to graduate studies, all of Pacifica's programs foster an environment that not only fuels the soul of our students, but also fuels the soul of the world.
Pacifica Graduate Institute is accepting applications for Fall 2019. For questions, please contact the Office of Admissions at 805.879.7305 or admissions@pacifica.edu. To apply, visit our website www.pacifica.edu.