An Interview by Angela Borda of Pacifica Faculty Member, Michael P. Sipiora, Ph.D.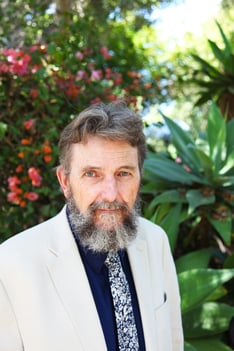 What is unique about Pacifica as a graduate institute that you most value? What drew you here from your teaching in Pennsylvania?
After graduate studies in philosophy, I earned my doctorate in phenomenological and archetypal psychology at the University of Dallas in the late '70s when James Hillman, Robert Sardello, and Robert Romanyshyn were the faculty. It was at the time that Hillman, who had a longstanding relationship with Pacifica, was first involved with the Institute and so I knew about the school back then. Before coming to Pacifica about 10 years ago, I was on the faculty at Duquesne University in Pittsburgh for over 20 years where I taught in their Human Science clinical psychology program. Like Duquesne, our clinical program here takes a qualitative approach to understanding the meanings that make up our psychological lives.
Of the courses you teach here, which is your favorite?
The courses in existential phenomenology and archetypal psychology are fundamental to how I think about psychology, and I really enjoy teaching them. I utilize both of those approaches as well in my classes in qualitative research and social psychology.
How would you describe the learning environment at Pacifica?
Our intense residency format is both intellectually and psychologically demanding. But it is also quite collegial in the sense that students go through the program in a cohort and spend a lot of time with faculty.
What most strikes you about the students you teach here, and how do you observe them change or grow over the course of their time here?
The program is designed to educate psychologists as scholars in the Human Science tradition. This education, which includes the humanities as well as psychological theory, then informs their training as clinicians. Hence our scholar-practitioner model. Students develop as both thinkers and therapists who have a sense of not only of the psychological dynamics of individual lives but also an awareness of the cultural-historical context in which these lives are lived. Accordingly, there are three core competencies in our program: clinical, research, and social justice.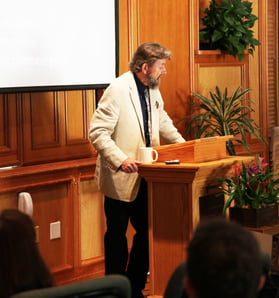 Professor Sipiora talking at our August Experience Pacifica Day. These special events are designed to inform and inspire those considering a path at Pacifica.
If you missed out August 24th Experience Pacifica Day, there is still time to sign up for our two upcoming ones:
Experience Pacifica, Saturday, September 14
Experience Pacifica, Friday, October 18
You teach archetypal psychology. How do archetypes help us understand the psyche, and in our present day, are there archetypes at play in this country that we as a collective are challenged by and need to find a way to heal?
While his project was to re-vision psychology, Hillman's vision extended beyond that discipline to the world at large and his concerns for the environment, democracy, and the life of the citizen. His political legacy resides in a conception of the psychological citizen whose "special role" is the "awakening and refining of aesthetic sensitivity" and whose "duty" is to "protest" against injustice, ugliness, and senselessness. This is a significant aspect of his work as a scholar and as a public intellectual. I am interested in advancing this legacy during this critical moment in our collective history.
For those students looking at Pacifica's offerings and deciding which focus is best for them, who would you say the Clinical Psychology Program is right for, what kinds of career goals align with it?
Our best students are people who come from diverse backgrounds including the arts and humanities; they seek to be scholars because critical thinking is important to them, and they're concerned with thinking about psychological life in a way that can inform effective clinical practice. They come to Pacifica's clinical program as an alternative to the profession's increasing attempts to define itself as a STEM (science, technology, engineering and mathematics) discipline severing psychology's ties to the arts, humanities, and social sciences. Our psychology is based on a qualitative concern for value, meaning, and those related dimensions that distinguish a soulful world and a fulfilling human life. This is the common ground held by the variety of orientations—psychoanalytical, Jungian, phenomenological, etc.—represented in a human science approach. Our graduates become quite successful as well-trained, thoughtful psychologists who have a social conscience and excel in multiple settings including private practice, community mental health, and academia.
"Our psychology is based on a qualitative concern for value, meaning, and those related dimensions that distinguish a soulful world and a fulfilling human life." -Michael Sipiora, Ph.D.
How does having a private practice here in Santa Barbara inform your teaching and academic life?
I think it's really important in keeping me engaged as a scholar-practitioner. I co-teach our second-year practicum seminar with a psychoanalyst colleague, in which students get concrete, specific feedback on their clinical work. While my main academic interests are in theory and scholarly research, being a practicing psychotherapist has always informed my teaching in both areas.
You have a rich and persistent publishing record that speaks of someone very engaged in their field. I see that you have a forthcoming article in Journal of Humanistic Psychology titled "A troubled world and psychotherapy." Please tell me a little about your current research focus.
At this point, I am concerned with psychologies that foster a relational sense of identity and an accompanying awareness of the common good as alternatives to the hyper-individualism that is part and parcel of a psychologically repressive and politically oppressive status quo. One of my current projects is to articulate the political implications of Hillman's archetypal psychology. In the same vein, I recently published an essay attempting to re-imagine work in a psychologically and socially constructive manner.
Michael P. Sipiora has practiced and taught archetypal psychology and phenomenology for over 30 years. He is professor and associate chair of Pacifica Graduate Institute's Clinical Psychology Ph.D. Program, and he also teaches in the program in Mythological Studies. He joined the Pacifica faculty ten years ago after spending over two decades as a tenured professor at Duquesne University where he was an award-winning teacher in both their APA approved clinical program in Human Science Psychology, and School for Leadership and Professional Advancement. Before that, he taught psychology, philosophy, and literature at community colleges in Dallas.